Fall 2010 Update
10/25/10 - The Kalloch Reunion Association is now on Facebook. If you have a Facebook account, please visit us there and click 'like'. This will be a good place to keep up to date with the latest reunion association news, and everyone is invited to post Kalloch family news stories or anything of interest.
2010 Reunion Minutes have been added, thank you to Vicky. Anita Nelson has sent photos from the reunion and I hope to add these soon.
The website's Kalloch genealogy database was updated on July 20th 2010, and now contains 15,371 individuals.
New photo pages were added for Ebba (Kalloch) Maple (and son Carl), and for Mary Jane Stover.
Back in July, I deleted the links to the Kalloch and Killough SRC (Surname Resource Center) at SurnameWeb.org. Our links there needed updating and the multiple attempts to contact their webmaster were unsuccessful.
Apologies for the long span of time updating the news here.
---
Spring 2009 Update
6/7/09 - I wanted to start off this update with the good news that I was finally caught up with all my genealogy correspondence. I was caught up for a short period of time last Fall, but now the printed email correspondence pile looks very much as pictured below in the Spring 2007 update.
Hopefully everyone reading this has had a good couple years. For all the people who are waiting for an email reply from me to help correct and update your family's genealogy or add photos, I thank all of you for writing and I will try to write to you all as soon as possible.
Today I added the 2009 Kalloch Newsletter, thank you to Evelyn Kalloch for putting it together and mailing it out to us. Also today I added information about our 142nd Reunion, which will be held on August 15th. Click the "Family Reunion Association" link to the left for more info.
The website's Kalloch genealogy database was updated on March 4th 2009, and it now contains 15,096 individuals. The Historical Into & Scotch-Irish links page was update to include Diane Boyd's information from her 2007 Kalloch reunion presentation.
Karen Cochran contributed a photo of Leola Robinson taken in 1912 or '13. A new photo of Peter & Eleanor Richardson was added to their page. A photo of Amariah Kalloch III's daughter, Mary Heck's gravestone was added to his page. More photos were added to Glennys & Lloyd Gross family page. A new photo of Maurice Elwood "Mike" Kalloch and his daughter, Sharon Lynn was added.
New photo pages were added for Anita Louise (Gross-Fernald) Nelson & family, Dorothy Roselle (Kalloch-Vickery) Fontaine, Edwin Gardner Ames, Marjorie Eleanor (Plummer) Kelley, Dorothy (Kalloch) Brewer Family, Rose Emma (Keller) Heald family, Clinton Everett Keller, and son Grover Everett Keller, Mildred (Gilmore) Long, Charles Drummond Chamberlain, Clyde Kalloch Graves, Mercy Kalloch (Hathorn) Graves.
Also added are pages for George Finley Gay family gravestones, Capt. Adam Boyd family gravestones, William Henry Tobey family gravestones, Capt. James J. Drinkwater family gravestones.
A photo page was made for the 2008 Kalloch reunion photos, Anita Nelson contributed photos of the 1992 reunion (125th), and I re-did the photo page for the 2002 to get rid of the thumb-nail size photos that were there.
There has also been numerous changes to links to other sites (sites added/deleted, url address changes, etc). These are too numerous to list here. Also, it's been nearly a year since I've thoroughly gone through all the links in our sites Site Map. There's probably some broken or changed links there that need fixing. I hope to do this soon. I welcome any suggestions for sites to add or change.
Again, thank you to everyone who has written to me with genealogy updates, and to those who have contributed photos for our album. Also thank you to all who have signed our site's guestbook.
I hope that everyone has a great summer, and I hope that I'll see many of you in Maine at reunion time in August.
---
Spring 2007 Update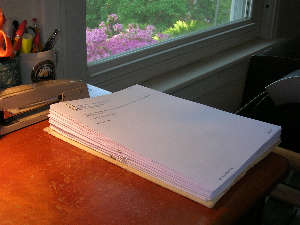 5/30/07 - Eighteen months since the last update here... not sure what to tell you all?.. pretty much ditto to the first paragraph to my "Winter 2006 Update." Again, I apologize for not getting the updates to the website and email correspondence taken care of more promptly.
Hopefully everyone reading this has had a good year. I'm very happy to be done with winter and see blossoming flowers outside my window instead of snow.
At the end of February I was caught up with most of my genealogy correspondence, but now the email pile has again grown to about an inch thick (see photo to the right).
So I ask everyone to please be patient with me, and I'll try to get caught up as soon as possible. I'm only one person here, and the amount of work that needs to be done is huge!
Here is some of the additions to the website: 8/11/06 - New photo album pages were added for Homer & Marilyn Morrison, Dana Edward Sherer, Lester Raymond Sherer, Nancy Jane Sherer, and Marion (Sherer) Waldron. 10/29/06 - New photo album page for Ludwig S. Kelloch. I probably have another hundred or so more photos to add, which includes a large box of photos and obituaries from Peter Richardson which he gave me last August. I'll try to get everything added one of these days, as soon as possible.
On 9/11/06, I upgraded our website server space with Freeservers from 200 MB to 5 GB (5000 MB), and the cost is $2 less per month.
On 3/6/07, I finished typing into my computer all the individuals from Zora (Killough) Cunningham's book, 1997 edition of "The Killough/Kellough Family in Ireland, Canada and the United States." Now I have a 2005 update of the book by Jason Killough that I'm trying to work my way through and type the new information into the computer.
I've added a couple new features to our Kalloch and Killough family databases. These new features are a pedigree chart, and notes option for individuals in the databases. I hope this will help everyone to see their Killough/Kalloch family line more easily. Also this makes it possible to add biographical information to the databases. I have a large amount of Kalloch biographical history by Kalloch historian Edward Kalloch Gould that I would like to type into the computer and add to the Kalloch database.
I have the 2007 Kalloch Newsletter and will be adding it to the website, hopefully in the next couple days. Today in addition to updating this page, I also added a link to it on the left-side page menu options, so that it will be easier to find.
Have a great summer everyone!
---
Winter 2006 Update
2/16/06 - Well, I guess that 7 months is already too long to go between updates, so I'll try to update everyone on some of what's new here since last July's update. I'm sorry that I've been a little slow to do things. I was hoping to make more progress with the genealogy work this winter, but all my work has been going at a snails pace, because I have not been feeling real well (it's nothing new or real severe, just the same problem with chronic fatigue (CFS) that I've had for a while). I hope that everyone has had a good year so far, I know of some family members and friends who have lost loved ones, so my condolences go to them.
I guess that I'll start with August 2005 and work to the present. The reunion on August 20th was excellent! On 8/24, I updated the website's Reunion Association page and added a page of photos from the reunion. The Kalloch Family Quilt had some new (and rearranged) squares, so I redid those pages on the website and made a table on the page with a photo of each of the squares with a link to the descriptions. I scanned a lot of old photos while I was staying at our historian Peter Richardson's house, (so far I've only been able to add a couple of them to the website). The first one added was a very nice portrait of Nancy Kalloch Wall, (she and her twin brother Rev. Joseph Kalloch were the founders of our reunion association). On 8/28, I received the 138th reunion minutes and they were added.
Through the fall and early winter I received a lot of new historical information and photos from Marilyn Morrison and Bill Colby. Starting 9/5/05, with Capt. George W. Boyd (very interesting biographical information, photos and obituary. Also added obits for George's sister Rachel (Boyd) Coombs and George's son John Edmund Boyd. on 9/8, I made a photo album page for Samuel F. Coombs family, (Rachel's husband). Some new photos and biographical text added to the following pages: Adam & Callie Kalloch page (new photo of Callie, and photos of their gravestones), Adam Kalloch Sr. (added photo of son Raymond's gravestone), and Hanse Kelloch's gravestone page (new text). Photo pages were made for Howard Lincoln Kalloch, and Horace W. Kalloch. Also, obits added for Leroy T. Kalloch and daughter Dorothy K. Brewster, also a photo of Leroy wife's gravestone was added to his page. Gravestone photo page for Matthew & Shepard T. Kelloch was added, also new page for photo of Matthew Kelloch fieldstone plot, and Dea. Matthew Kinney family gravestones page was added. Obituary was added for Capt. Jeremiah W. Farnham, (brother to Nancy S. Farnham, who married Capt. George W. Boyd).
In October, photo page (with very interesting biographical text) for Capt. Albert W. Keller was added. Capt Josiah Kelloch family gravestones photo page was added. Goddard Dodge Keller, Sr. photo page added, also photo page for his daughter Emily and her husband Josiah Hill Munson and their family (very interesting biographical information on this page also). Along with the new photos, biographical information and obituaries, a lot of new genealogical information was also added to the Kalloch genealogy for these families.
During November, I edited the "Genealogy - Getting Started and Useful Links" page, and added a new WebRing "Maine: The Way Life Should Be" was added to the Maine Links page. Then I took a break from the website work for about a month. I discovered that the quality of many of the approximately 2 dozen cassette tapes of music that I bought while I was in Argentina 20+ years ago had started to deteriorate (tape dragging, reduced sound quality, etc.), so I connected my tape deck to the computer and recorded all the cassettes into the computer, filtered out the tape hiss and brightened-up the sound as best as I could, and burned them all onto CD disks.
The end of December and beginning of January I got some more work done on the website... A photo page was made for Helen (Keller) Langston. Edna St. Vincent Millay's page was edited with obituaries added for her, her mother (Cora), two sisters (Norma & Kathleen), and husband (Eugen). Between mid-January to now (mid-February) the only additions/changes were the adding of Evelyn Kalloch's new email address on 2/12 to the Family News, Reunion Association Officers and Family History Quilt pages.
For one week, between 1/24/06 and 1/31, our website was down because our domain name registration had expired (I missed reading the email that I was suppose to reply to to have it renewed.. sorry about that).
It might be another month (until mid-March?) before I can get back to more productive work on the genealogy and website, (emails are piling up, plus I'd like to finish typing the rest of the Killough genealogy into the computer (I'm also an assistant historian for the Killough association), and the list of things to do goes on... The most pressing project that I need to do first, is to get our living room refinished, (right now it's a totally empty room with a lot of work needing to be done).
My next website update will probably be posted during the Summer, prior to the reunion. Make sure to check the Reunion Association and Family News pages here on the website around June/July (not sure exactly when the Kalloch Newsletter will be ready?), for information about, and registration form for, the next Kalloch reunion (the 139th!) which will be held (I believe) on August 19, 2006.
---
July 2005 Update
7/5/05 - The first thing that I'd like to report is that my email pile which was over 2 1/2 inches thick in March is now 100% caught up!!!
Also, the online Kalloch database was recently updated on 6/20/05 with 12,676 individuals in the database. Since then (a week and a half ago), another 679 individuals have been added! (thanks to Nola Metcalf who sent me an over 12 thousand individual file of the descendants of Dr. Moses Robinson, Sr. who settled in the same area and about the same time as our ancestor Finley Kelloch).
And, the Killough database was update on July 4th, with 21911 individuals in the database. I'm still not through with typing into the database all of the individuals from chapter 7 of the book, The Killough/Kellough Family in Ireland, Canada and the United States, but this upload adds another 4109 more individuals to what was previously there.
I'd like to thank the many other people who have sent genealogical information, photos and obituaries to me (sorry for not including your names here, the list would be very long). One person in particular though, Marilyn Morrison who lives in Washington State, should be applauded for her research on the Kalloch families who settled out on the west coast. She has sent me many photographs and genealogical updates. (One of her articles about "Finley Keller IV and Jane B. Robinson," is in this years Kalloch Newsletter). And for the Killough branch of the family, I'd like to especially thank Jimmie Killough, of Downers Grove, IL, for helping to keep the information for that branch of our family up-to-date.
In June I received information from Neal Du Shane and D. Sue Kissel, both of whom have been doing very interesting research on Count Demetrius and Countess Agness Minotto, and their son James who married Ida May Swift, daughter of Louis Franklin Swift, (his wife, Ida May Butler was a granddaughter of Elizabeth Kalloch & Brackett Butler). Countess Agness I learned was a famous actress in Germany before coming to the U.S., and son James had a very active and interesting life in banking, politics, and ranching. (To read more about this interesting Kalloch family, click the names above to view their obituaries and links to photos).
This past week I received a copy of the article about our family which was in the December 2004 issue of Family Tree Magazine, page 14. Here is the article, called "A Family Affair."
I made a new photo album page for myself. Most of the photos were already on the site, either on other photo album pages or linked to from my autobiographical page, but I decided that it would be a good idea to put all the photos of me and my family into one album page, (click here to view).
On July 3rd, we received a new award, the "Heritage Award," from Tarje Grover Family.
The Kalloch Reunion is only 47 days from now. Visit the Reunion Association page of the website to read about plans for this years Kalloch Family Reunion and get your registration form mailed in!!!
I hope that everyone has a GREAT Summer!!!!!
---
4/10/05 - The sign Guestbook page is now fixed! I've been wondering why no one had signed it since last November. I thought that I had checked all the links after our move to Freeservers, but I missed the one that allowed people to submit their info to the guestbook. Thank you to Julie in Idaho for pointing it out to me!
March 2005 Update
3/23/05 - Sorry for such a long delay in updating the news here. I hope that everyone had a good holiday season. I am happy to start seeing signs of Spring (a few robins here and there, warmer sun, longer days and faster melting of the snow banks) up here in frozen New Hampshire. Here is a short update:
Work on this project (website/genealogy) slowed down in 2004, because my mother (Catherine) became ill early in 2004, and most of my time and energy went into providing home care for her. I worked 10 years in the nursing profession, so I had the skill and ability to provide quality home care. But the physical and mental drain was enormous. Catherine (obituary & link to photo page) passed away on Feb. 3rd, 2005. I'm still recuperating physically and mentally from this, and because my mother never threw anything away, the task of sorting through and organizing everything left in the house is an enormous challenge. On top of this, I'm also in the process of fixing up the house which has not had significant work done to it in 30-50 years. Consequently, I'm extremely behind with my e-mail correspondence (pile measures 2 1/2 inches) and genealogy work. I hope to get caught up with everything as soon as possible! If you have sent e-mail to me (kdk44@juno.com) and have not heard back from me... This is the reason! Pease send a reminder letter, or be patient.
During the months of November to January, our Kalloch site frequently kept going down. In November I contacted someone at BizHosting (a branch of Mega Web Services, Inc.) where I've made the payments for hosting our site. After contacting this person, they contacted someone at Accessgenealogy and the site came back up (temporally). Then towards the end of December the site started going down and back up at intervals, then it went down again for a couple days with no explanation from Accessgenealogy as to what the problem was. I called BizHosting and they explained to me that Accessgenealogy had been partnered with them, but they now have left and have set up their hosting somewhere else, taking our site with them and putting it indefinitely offline. I found out that if I registered our site under our own domain name (kalloch.org), then I could move it back to Mega Web Services. The cost of registering the domain for one year was $35. The site is now at FreeServers (which is another branch of Mega Web Services, they are a branch of United Online, which also includes Juno and NetZero). They were able to retrieve all our files from Access Genealogy (which I no longer had access to) and move them to our new site address. The benefits of the change is that we now have an easier to remember web address and FreeServers has a 1-800 number to call if there are any future problems.
I'm told that there was an article about us in Family Tree magazine a couple months back. I did not get a chance to see the article. Has anyone reading this seen it??? If you've seen it, please let me (kdk44@juno.com) know! (I'd like either a photocopy or scanned image of the article). - UPDATE -Thanks to Corinne Butler of Mt. Pleasant, MI for sending me a copy of the article. It was in Family Tree Magazine, Dec. 2004, pg.14.
Best wishes to all!!!
---
June 2004 Update
6/4/04 - I hope that everyone has had a good winter and spring! Typing an update here has been on my "to do" list for quite a while, so today I've decided to make an attempt to update it.
In April Marilyn Morrison sent me photos and information about Josiah P. Keller who was one of the founding fathers of Port Gamble, Washington. Josiah now has been added to the "Notable Kalloch's" page and a photo page has been added for him and his family. Marilyn also sent more biographical information about Hanse R. Kelloch (my great great great grandfather).
Towards the end of April, I was feeling a little nostalgic for the time that I spent in Argentina 21 years ago (I began my Argentine odyssey on 5/5/83). So I updated my autobiographical page with more Argentine related links and made a photo page of photos from the 16 months that I was there during 1983 & '84.
On May 23rd. we received an award from LoneStar Genealogy. Thank you to Jeannette for the award!
As far as the Kalloch/Killough genealogy projects: I sent Peter Richardson (our Kalloch historian) the pages that I typed of information that needs to be re-checked from his genealogy manuscript notebooks, but I haven't made any progress with updating his Kalloch genealogy manuscript notebooks. I had hoped to make more progress this year with the Kalloch genealogy book project than I have so far. Hopefully by reunion time, I'll at least have an updated/indexed volume printed for Peter. From Jan. to April, I typed another 9122 individuals into the Killough database, and I'm very close to finishing chapter 7 of Zora's book (I'll probably wait until I finish that chapter before making the next upload to the websites Killough db). For the Kalloch database, about 54 individuals have been added (I should probably make a new upload to this db too, but I've fallen behind a bit in my work). Thank you to everyone who has submitted new information and corrections! And I apologize to everyone whom I haven't replied to yet.
For the past several months I've been feeling increasingly worse as far as my health. I now have all the symptoms of (CFS) Chronic Fatigue Syndrome. Even simple tasks like answering e-mails have become more difficult, and typing names into the Killough database has (I hope only temporarily) come to a screeching halt. I hope to feel better soon and get my growing pile of e-mail taken care of, and also get back to typing names into the databases, etc.
The 137th Kalloch Reunion is approaching fast (11 weeks to go!!). It will be the 3rd. Saturday in August at the home of Peter and Eleanor Richardson (the same location as last year). I hope to attend this year and see many familiar and new faces!
---
January 2004 Update
1/23/04 - First I'd like to wish everyone a Happy New Year!! Also I hope that the holiday season was happy for everyone. I apologize to everyone for not doing well with sending out individual holiday email greetings or cards. I really hope to do better this year. Also, I've been wanting to update this newsletter for a while, but I've been busy with other things. I figure that four months is long enough to go without an update, so here is some of what I've been doing on the genealogy and website projects:
For the Kalloch genealogy project I've now got a binder about 1 inch thick with updates that I've made to Peter's notebooks since the reunion, and I probably have enough new information to double that number of pages when I get back to that project. Instead of focusing on updating the notebook pages (a project that can wait), I've started a project of going through the 1830+ notebook pages and type a list of things that Peter needs to double check so that we can move closer to publishing. On 1/5/04 I received an email from Peter saying that he would be away in Florida until March 1st, so I guess that this project can also wait a little while. Currently I have 3 pages of information typed for Peter to double check and about 750 more notebook pages to look at before finishing the project.
I've been typing the data from "The Killough//Kellough Family In Ireland, Canada and The United States" into a database as fast as I can and today I finished chapter 5!!! which is about half-way through the book. I've been getting a lot of email from Killoughs wanting to update their information, so I'm trying to put a lot of energy into finishing this project as soon as possible. I've also been getting a lot new information from Kalloch relatives which has added about 300 more individuals to the Kalloch family history since September. The Kalloch database now has 11,264 individuals and the Killough database has 12,156 individuals.
To improve how the site looks, in November I removed the top title frame from the right-hand side of all the framed pages and I made new framed Guestbook and Family Genealogy pages. So now when people go to these pages they won't loose the left-side menu options. I also added "Search this Site" as one of the left-side menu choices (instead of at the bottom of the pages), so that it would be more visible, and I changed the way that the pages display throughout the entire site, so that when going to the Family Genealogy page, Photo Album, Obits., Site Map, etc., the tartan menu stays visible on the left side. I think that this will really help with navigating more easily around our site.
In December I spent about 3 weeks updating my own surname pages on the website to make the information more easily accessible. I thought that by having my sources and a link to my database, that people would be able to find the information easily enough, but on Dec. 2nd someone signed our guestbook and asked where to find information about a particular family of mine. So I decided to add each family line in "register book" format to the surname pages. I figure that the more useful information that people can find on our website the better it is for all of us.
The last time that I checked, our site stats showed that the website was getting about 200 unique visitors per day. This is about double from this time last year!! Thank you to everyone who helped this past year by sending genealogy information, photos, obituary clippings, or who made suggestions or gave compliments. You all have helped me to keep going with this project and have helped the site to be better than it was a year ago. I hope that by this time next year that the site will be even better!!! Thank you again!!!
---
September 2003 Update
9/15/03 - This is an update of some of what I've been doing since my last update.
I went up to our historian Peter Richardson's house (also the site of the reunion) the Thursday afternoon prior to the Kalloch reunion and scanned a lot of new photos, about 40 more obituaries, and additional misc. biographical and historical information. I also scanned the entire 2nd volume of Kalloch Reunion Minutes dating back to 1951. These last 52 years of Reunion Minutes are all now all typed into the website and can be viewed by going to the "Kalloch Reunion Minutes and Information" page, (also accessible via the Family Reunion page or Site Map).
All the new obituaries have been added to the Obituaries page of the website. I also looked again at the ones that I added last year and found that about 80 of them contained new information that wasn't in the database. This information has now all been added into the database and I'm in the process of updating the Kalloch Genealogy Manuscript notebooks, (this will take a while longer). If any of you have an obit. that hasn't been added yet, please email, snail-mail or bring me a copy at the next Reunion.
Prior to the going to Maine this year I made a photocopy of the entire Kalloch Genealogy Manuscript (approx. 2100 pgs.), to give to Peter, so that he now has all the new pages that have been added and corrected since Jan. 2002. For every change that I now make in my copy of the notebooks I'm making a new page for Peter to add to his copy, so that both sets stay up-to-date.
On Reunion day, I spent much of my time in the dining room of Peter's house, where the genealogical and historical material was located. Thank you to the people who helped add information for their families. Information for about 7 new families was added and additions were made to about 17 others. My eyes got a little blurry at times from looking at the computer screen and in the one photo that I saw of me at the computer, I think that I looked a little frazzled, but I'm happy that I was able to meet all the people that I did who shared an interest in genealogy & family history. I think though, that I might have accidentally deleted some of the photos that I scanned, that people brought - (9/18/03 Phew!! Found them!! They were still on the notebook in the scanner software). If you brought pictures this year, please bring them again next year and I'll try to be better organized.
Speaking of REUNION PHOTOS -- I still haven't received any from anyone!! Please send some into me so that I can add them to the website. -- Update-- Good News!! Eleanor Richardson has sent some photos.
Thanks also to the people who have contacted me via email in the past couple months to add new information! 73 individuals have been added to the family history since August (prior to the reunion). The Kalloch Family Database now contains 10,987 individuals. This is an increase of 1950 individuals since 3/14/02 when the database was added to the website.
To wrap-up this update, these are some more of the changes that I've made on the website:
The 28 years of Kalloch Newsletters on the website have all been edited. I got rid of the pull-down menu at the bottom of the pages and added a navigation bar instead (like in the Photo Album) so that it's now easier to browse through them year by year. I also added some additional links on them to the corresponding Reunion Minutes, etc.
I rewrote the text on the Photo Album's welcome page, to express better how I feel about it. Also the Maine Links page, About This Website, About The Webmaster, Quilt Descriptions Page (thank you ShirlyAnn and Bob!), Genealogy Getting Started & Useful Links, Kalloch Reunion History, Notable Kallochs, and several more pages have all had some editing done to them. A couple new WebRings have been added, plus our site is now listed as a "Family Friendly Site", see the logo on the bottom of our "Home" (Welcome/index) page.
---
July 2003 Update
7/17/03 - This is an update of some of what I've done since my last update in March.
During March and April, I helped the Killough Reunion Association get their website back online. On 3/29/03, The Killough site went back up after being down since 2001. They now have their own server space and their own address: http://killough.org. I'm continuing as webmaster of that site as well as this one.
During May and June, I revised all of our website pages and added a solid colored box around each of the pages text. I think that the text is now easier to read than before (with the parchment background behind the text). I think that this also really improves the appearance of our site.
During the Spring, I focused a lot of my time on typing the names from Zora's Killough genealogy book into a database. By May 28th, I had 7826 names typed in, which is 1/3 of the book. After reaching this point in the project I put it on hold and I shifted my focus to finishing adding the Kalloch family photos into our Website's Photo Album. The album is now 156 pages. I should have all of the photos added in another month or so.
I'd like to thank everyone who has been helping our project here, by sending photos and genealogical information. I also really appreciate hearing from so many family members and friends who have found this site and have sent me a note. Our site is getting quite a lot of visitors. During the Winter over 100 people per day were visiting our site, but now that it's Summer and people are finding more things to do outside, the number has dropped a little to an average of 80-90 unique visitors per day. Our visitors are looking at between 400-600 pages per day (mostly in our databases). I don't know how that compares to other family sites, but I think that it's pretty good!!
---
March 2003 Update
3/9/03 - This is an update of some of what has been done here since my last update of 1/20/03.
On January 25th I went up to Rockland, Maine for a Kalloch Reunion planning committee meeting at Peter Richardson's house. Present at the meeting was Peter Richardson, Julia Hunter, Ruth Wade, Evelyn Kalloch, Phillip Kalloch, Vickie Levesque, and Ken Kalloch. As an off-shoot of discussion from this meeting I began working with Phillip Kalloch on a "Privacy Statement" for our site. I gathered several examples from other family sites and I plan to formulate one for our site. In researching the issue of privacy, on 2/1/03 I found that a site called "They Live Again" had begun a program to promote genealogy ethics, called "GenETHICS Certification" (no longer available), and I registered our site with this program. The GenEthics link (no longer available) has some good links to read more about the subject of privacy and ethics.
We've received 10 more awards. Of special note is the Golden Web Award, which was presented to us by The Association of Web Masters and Designers.
On 2/17/03, I added a "Search this Site" option to our site. You can find the link for this on the bottom of most of our pages. It allows a person to do a keyword (or phrase) search of all our site's pages and databases.
On 2/21/03, I received an email from Zora Killough Cunningham. She announced that she was well, but her morale was low, because she has not been able to get the Killough Association's (Killough.org) website back up. I offered to help and found most of the site's original pages and posted them back on the web. They are sharing server space with our site temporally until Zora can get their own host/sever arrangements taken care of.
On 3/5/03, I upgraded our site's hosting plan from the one that we had which was 50 Megs. to the next better plan which gives us 200 Megs. of sever space, and I paid in advance for one year. This will give us plenty of space to post the remainder of the photos that I scanned last August from our historian. I think that at this time I only have about 1/4 of the photos posted in the site's Photo Album.
Another project that I've been working on is I'm typing the data from Zora Killough Cunningham's book "The Killough Family in Ireland, Canada, and the United States" into the computer. I figure that at a conservative rate of 2 pages per day, that this project should take me about one year to complete. It's tedious work, but I think that the benefit to genealogists will be worth it. At this time I have almost 2000 of our Killough cousins typed in. At some point in the future, I'll be adding a link to this database on our Family Genealogy page.
On 2/19/03, I updated our site's Kalloch Database. It now it contains 10,863 Individuals. There have been a few additions and corrections since this update, but I plan to wait until I have more changes before updating it again. Thank you to all the people who have helped with adding and correcting information. 560 individuals have been added to the Kalloch database so far this year!
I also added a German translation to our "Other Kalloch's Database," since most of these individuals are from Germany and Austria. Although the German Kalloch's are not related to us they do share the same spelling of their name. Eventually I would like to correspond more with these "Deutschsprechenden" Kallochs and add their data.
---
January 2003 Update
1/20/03 - Happy New Year to everyone!!! I hope that everyone had a good holiday season.
Here is an update on some of what I've done here since last month, and some new things. I finished the project of checking the HTML coding on most of our pages that I mentioned last month. Also I edited the Family News and Reunion pages and added drop-down menus for the Kalloch Newsletters and Reunion Minutes, plus I did some editing on several other pages. I also got caught up with my genealogy correspondence which I had as a goal and I got caught up with updating the Kalloch genealogy notebooks. But I haven't done any more with the website's photo album. I hesitate to do much more work on the photo album right now, because of our current server space. Currently we have 50 MB of server space available to us and we are using about 36 MB of that space, which leaves us only about 14 MB of available space.
My proposal is that we upgrade to the next plan which will give us 200 MB of server space and will cost $9.99/per month for 12 months. Our current plan cost $41.95 ($6.99/per month) for 6 months. Next billing date will be 4/1/03.
Since December our site has received 16 more Site Awards!! I edited the award section so that instead of having the awards displayed on one long page, which was getting slow to display for some people, the awards are now on 7 pages with about 5 awards per page. I thank all the award presenters for taking the time to look at our site and present their awards.
As I did last year at this time I would like to thank everyone who has helped me with the website this past year, by giving me suggestions, encouragement and help with the genealogy. 2002 was a really good year for the website as I had hoped it would be. I hope that 2003 will be as good or better for our site, and for each of you, our family members and friends!!
---
December Update
12/9/02 - During the month of November I've continued to work on the web site's appearance. My new project is, I'm checking the HTML coding and verifying each page with the W3C and converting the site's pages to CSS (Cascading Style Sheets). This has been a slow process, because CSS is new to me, I'm learning about it as I go, also looking at each line of HTML code is a bit tedious, sort of two steps back and one forward, but I think that it's something that needs to be done at this time. If anyone has any difficult viewing any of the pages, please let me know.
Hopefully I'll be able to finish this project soon and get back work on adding more photo pages to the site's photo album section of the website and get caught up on adding new pages to the Kalloch genealogy notebooks, and update the site's Kalloch database. Also, there are a few people that I need to respond to concerning genealogy queries, etc., I'll try to get to this soon... if you don't hear from me soon, or if it's already been a long while, Please send me a reminder note.
I hope that everyone had a good Thanksgiving and that that everyone celebrating Christmas will have a merry one!! The New Year is less than a month away, so Happy New Year to everyone, best wishes and peace for 2003!!
---
October Update
10/31/02 - I've been very busy for the past three months working to continuously improve the website's appearance and content. Two sections that I am trying to focus on are the photo album and obituary sections of the site. When I was in Maine for the Kalloch reunion in August I spent the two days prior to the reunion at our historian's house scanning old photographs, obituaries and documents. In two days, I scanned about 600 images which I'm gradually adding to the website. I was up very late the two nights prior to the reunion, so on the day of the reunion I was just about exhausted, but I think that it was worth it to get the materials scanned and now see them on the website.
Another section that I would like to do more work on is the page of descriptions for the Kalloch family quilt. I made a new page for the descriptions of the squares. I would very much like to include the story behind the square, who it was made in memory of, etc, but I'm still missing information for many of the squares. Evelyn Kalloch helped by sending me the descriptions for some of the squares and Dexter Olsen has helped, but I still need help on this.
Something else that is noteworthy is the genealogy database of known Kalloch descendants has continued to grow, thanks to the help of many who have mailed and emailed me. The database now has 10,124 individuals.
---
Link to Killough Genealogy Book Added
7/25/02 - I decided to add a link (again) to the online version of the Killough genealogy book which Mitch Fincher has on his site. I marked clearly that Mitch is responsible for the book's files and that all comments should be directed to him. This link is located on our Family Genealogy page. I feel that despite the controversy which prompted me to remove it in April, that it is too valuable of a resource to not have access to.
---
New Web Rings Added
7/1/02 - I've added a few more WebRings. I think that the number of genealogy rings that we belong to is now about 30. I also added a photo album ring to our photo album page. Also I decided to start a brand new ring called the "Killough - Kalloch Genealogy Web Ring."
6/28/02 - Over the past couple days I've added our site to 23 new Web Rings. 17 new genealogy rings, 3 new rings on our Maine page, and 3 new rings on our index (welcome) page. These rings are a great way to check out other sites and a good way for more people to be aware of our site.
For those of you who don't know what a WebRing is, here is a little explanation. A WebRing is made up of similar sites that are grouped together into "rings" and each site is linked to another by a simple navigation bar. Rings form a concentration of sites, allowing visitors to quickly find a site pertaining to a given topic or theme. On our site we have a predominance or genealogy WebRings that are on a separate page. View our Genealogy WebRings Page.
---
Our Website's New Look
6/19/02 - Last Saturday I was looking at the website with my son David and he suggested that it might be a good idea to change the design for the website every 6 months or so, so that people don't get bored with the way that it looks. I don't think that I'll change the site every 6 months (it's a lot of extra work), but thinking about what he said and considering that it has been almost a year with the previous design, I thought that it would be good to come up with something new.
The next day (Father's Day), I was surfing the web, looking for new ideas for redesigning the site and I saw a site that was using this background and frames. I had never designed pages with frames, so this interested me to figure out how it was done. I checked with the site's webmaster to make sure that it was all right to use this background image and ended up designing two new versions of the website, one with frames, and a no frames version. Visitors can select which version they prefer by going to the bottom of the Home Page or by going to the Site Map. The tartan on the left side of the framed pages is the "Modern MacDonald Tartan" from the Clan Donald-USA website, thankfully, the webmaster of the Clan Donald-USA site gave me the o.k. to use it on our site. I hope that everyone likes our new look.
One glitch though... Unfortunately in the process of redesigning the site, the counter on the bottom of the site's first page was reset. On 6/17/02 before being reset, it showed that we had 4765 visitors to the page since the website began on 7/17/01.
---
Family Photo Album Added
5/30/02 - I added a Photo Album section to the website. I've started to scan in photos and will be adding new ones as soon as possible. I would like to eventually have as many of us included in the album as possible. This summer I hope to be able visit our family historian, Peter Richardson and scan the large collection of photos that he has and add them. Please let me know if you have a photo (or photos) of yourself or family that you would like to have included. My address is: Ken Kalloch, 11 Joffre St., Concord, NH 03301, email: kdk44@juno.com.
---
Kalloch Family Quilt
5/20/02 - Today Evelyn Kalloch e-mailed me a photo of the Kalloch Family Quilt. I made a new page with the photo of it. (Evelyn said that she will be "snail mailing" me the information about each of the squares in the near future).
---
New Kalloch Genealogy Forum
5/12/02 - Today we received our Kalloch Genealogy Forum at Genealogy.com. This is good that there is now another place for people researching our family to find and share information. Thank you to everyone who sent requests into Genealogy.com for the forum.
---
Link to Killough Book Removed
4/29/02 - I removed the link that I had to the Online version of the Killough Book. The reason for this is that I received a complaint from a woman whose living family member's information was online in this edition of the book. I don't have the time now to go down each line of text and remove living people's information, so I just removed the link to the book. I agree with this woman that living people's information should not be posted on the web.
---
Our Website in Newspaper Article
2/26/02 - Roxanne Saucier who writes the Family Ties column in the Bangor Daily News wrote an article about our website which appeared in the paper on Feb. 11. The article is called "Family Web site a fount of knowledge."
---
Two More Awards Received!
2/7/02 - We received two more awards!! The first one is from a very nice website in England of the Capstick family. The second one is from a really excellent!! website called Julie's Genealogy. The amazing thing about Julie's site is that her family has a Kalloch connection!! To view the awards, read what they had to say, or visit their sites, go to the Awards Page.
(7/25/02 - We have received 8 more awards since the above entry!!)
---
Maine Links Page Added
2/3/02 - This past week I was reading a book called The Uncensored Guide to Maine (IBSN: 0-912769-02-5), which a Kalloch relative of ours, Kendall Merriam, co-authored, and an idea came to me for a new page on the website. The book is a humorous (and informative) look at the State of Maine. So this too is what the page is; some serious informative links, but predominately more humorous links. I think that a humor break would be good for us all, (I know I sure need it!).
---
Award Received from "They Live Again" & Awards Page Added
1/27/02 - Today we received a "Genealogy Excellence Award" from "They Live Again." Yesterday I made a new Awards Page to display the awards that we've received.
---
WebRings Page Added
1/26/02 - I moved our WebRing banners to a separate new WebRings Page. They were on the "Family Genealogy Page," but the page was taking too long to open. Also I think that both pages now look neater.
---
Awards Received
1/26/02 - Today we received an award for "Preserving Family History" from Ruth Andrews Riley. Ruth also has families that came from Thomaston, Maine, (the same area that the Kalloch's originally settled).
1/25/02 - Our site was reviewed by Ancestry Connections and we were presented with an award for our website's "contribution to genealogy".
1/24/02 - Our website received an "Award of Excellence" from Connie's Family History Pages today.
---
Page Added to Help Beginning Genealogists Get Started
1/25/02 - I added a page of links to sites which offer help and suggestions for beginning genealogists.
---
HAPPY NEW YEAR 2002!!
1/15/02 - First, I would like to wish everyone a happy New Year!! I hope that everyone had a good holiday season. Thank you to everyone who helped me this past year to get this web site going. I hope that 2002 will be a really good year for everyone! Before we get too far into this new year, I want to write about some of the things that I've done on the website since I last wrote here in November.
Site Map Added
In December in the "About" section of the website I added a "Site Map." On the Site Map all the website's pages and links are listed on one page. This allows visitors to get an overview of the entire site and find links without having to jump around from page to page.
Kalloch/Killough Family Researchers & Website List
I added a page where all the Kalloch & Killough Genealogists and Family Websites can be listed. I'm asking everyone to help. If any of you know of a family website or if you are researching a branch of the family, please let me know so that I can add your name or website to the list.
Major Work on Kalloch Database to Start Soon
In December I received word from our family historian, Peter Richardson, that he is almost ready to give me the most recent updated version of our family genealogy totaling 1831 pages which I will be typing into the website's Kalloch Database. I hope that by having this information online that everyone can participate in this project by looking at their branch's information to help make corrections and add in missing information. If you have a Kalloch ancestor, let us know who you are! Then the ultimate goal which Peter is working towards is to have the material published in a book.
Work on Ken's Database Done for Now, (But Not Finished)
This past week (1/11/02) I finished typing names into my database and uploaded the information to the website. I also added a couple branches with New England families that are related to me by marriage. Total number of individuals in the database is now 7062. I hope that other genealogists researching New England families will find this information useful. Also I think that it is good if our website can be of interest to a broader range of people than only those with Kalloch or Killough ancestors. I think that many Kalloch's are most likely also related to some of these families in this database. I have much more work to do with these family lines, but I probably won't be able to do much more work on it until after I finish helping Peter with the Kalloch database, book publishing research project. I think that eventually one thing that might be interesting and useful to genealogists, would be to possibly expand outwards on the Knox County Maine lines that are in this database.
Kalloch & Killough SRC'S
Our website is now listed as the host site for both the Kalloch and Killough Surname Resource Centers at RootsWeb. I only asked to host the Kalloch SRC, because I thought that an existing Killough site might want to be that SRC's host site. The decision to add our site as host to the Killough SRC was made by the RootsWeb people. I guess that this was a good thing, because we are branches of the same family.
---
Kalloch Message Board
11/08/01 - For at least two months a bunch of us have been sending in requests for a "Kalloch Surname Forum" at Genealogy.com, and in that time nothing happened, so I decided to look for an alternative place. This morning I put in a request at RootsWeb for a "Kalloch Message Board" and within a couple hours I got an e-mail back from them saying that it was approved!!! Thank you to everyone who has helped during the last couple months by sending in requests. The new message board is located on the "Family Genealogy" page.
---
Web Site Upgraded
10/11/01 - I upgraded our website. The "Banner Ads" are gone!!! The "starter upgrade package" which costs $5.95 per month, gets rid of the banner ads, which were at the top of all our pages, and give us an additional 30 megs. of server space.
The main reason for upgrading at this time was that Access Genealogy changed their policy concerning their free accounts, which we had, so that I couldn't use FTP to upload new or updated pages to the server. Now with this upgrade I can upload pages again, and without the advertising, our web site looks much better.
---
Netscape Viewing Problem
10/30/01 - Good News!! I just worked on the last problem page (The Guest Book), and it too is now displaying with Netscape. I think that the entire site is now viewable with Netscape!!!
---
Our Web Site Wins CPRoots Global Genealogy Award!!!
10/7/01 - We received an award from CPRoots. Our site was described as "one of the best Global genealogy sites on the world wide web".
---
Web Site Being Posted with Search Engines & Genealogy Sites
2/9/02 - We are now part of the "American History and Genealogy Project" WebRing.
1/29/02 - Our website is now a member of GenNetwork.
1/15/02 - I added our site to two more Genealogy WebRings: "Genealogical Research and Resources" and "Genealogy on the Web." Our website is now listed with six Genealogy WebRings.
11/2/01 - I noticed this past week that our web is now listed with Google, Yahoo and some other search engines.
10/29/01 - Our web site is now a part of 3 more Genealogy Rings: Discover Maine Genealogy WebRing, Discover New Hampshire Genealogy WebRing, and the Discover Massachusetts Genealogy WebRing.
9/26/01 - Our web site is now a member of "The Surname Ring", and is now listed at Roots Web's genealogy.org site.
9/13/01 - I posted our site with the following Genealogy/Family History sites: CPRoots Genealogy Resource Center, GenaNet, HistorySeek!, Roots Web, and GenCircles.
9/8/01 - I listed our web site with Yahoo, Alta Vista, Lyco's and Google. Each place said that it will probably be a couple weeks until it shows up on their search engines.
7/17/01 - The "Kalloch Family Home Page" goes online!!!