151st Kalloch Family Reunion
Was held on Saturday, August 18, 2018
At the First Universalist Church in Rockland, Maine,
345 Broadway St.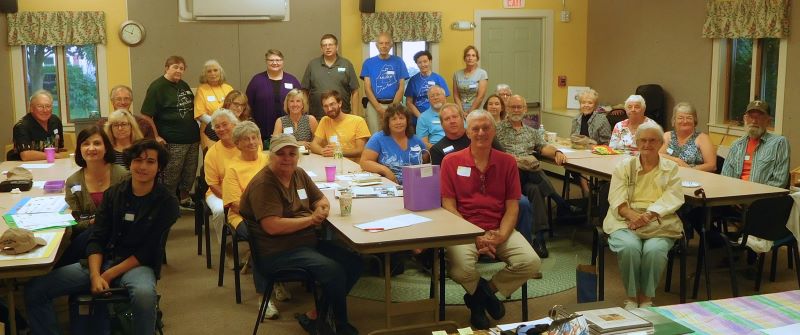 151st Kalloch Family Reunion Group Photo - 2018

---
Save the date!!

Our 152nd Annual Kalloch Family Reunion!
Will be held on
Saturday, August 17, 2019

(Location to be announced prior to the reunion)


---
Other Related Family Reunions
Gilchrest-Robinson Reunion Newsletter
The Gilchrest-Robinson reunion pot-luck picnic will be held at noon at the St. George Grange hall on Sunday, August 18, 2019 (the day after the Kalloch Reunion). Bring food and come if you can. If you can't bring food simply come and socialize with your relatives. Get a copy of your family tree. No program is planned.
Many of us Kalloch's from the St. George, Maine area are related to the Gilchrest's and Robinson's. Finley's son Matthew married Moses Robinson's daughter, Margaret, so all Kalloch's from this branch are also Robinsons. There are also many other connections between our families.
---
Killough Family Reunion - North Carolina / Arkansas Branch
For more information about the Killough Family - NC Branch, visit their Facebook group page. Note, it is a closed group.
---
Killough Reunion Association of the Killough Massacre Memorial Site
The most recent reunion was held on June 17, 2017 at the Killough monument site, where a number of Killough family members were massacred in 1838 by a party of Mexicans and Indians. For more info visit the Killough Reunion Association Announcements. The next reunion will be in 2019.
Killough Reunion Association Home Page
---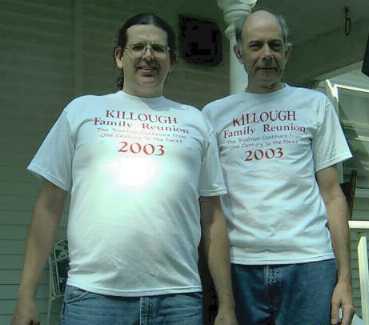 Greetings to our Killough Relatives!!!
Kalloch family webmaster/historian Ken Kalloch & Kalloch family historian
Peter Richardson wearing 2003 Killough Reunion t-shirts.


Kalloch Family Reunion Association