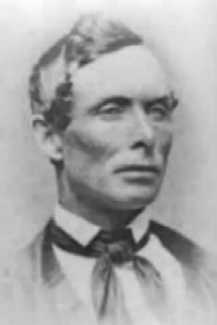 Josiah P. Keller
Captain J. P. Keller

Mrs. J. P. Keller
Emma Caroline Foster Talbot
(Josiah's 2nd. wife)

Original partner in Puget Mill Company. Bought first mill machinery from Boston in schooner 'L.P. Foster.' First manager of Pope & Talbot Mill.

She and her daughter were the first white women to visit Port Gamble site. Later she sent out Maple tree slips from E. Machias, Maine that became huge trees that shade Port Gamble streets today."
Josiah's obituary
Emma's obituary
(The 3 photos above are from: Port Gamble Museum, Port Gamble, Washington)
The two portraits are mounted on the wall of their museum.
---
In late summer, 1853, 154 days out of Boston with no port calls between, 42 year-old Capt. Josiah P. Keller brought the schooner L. P. Foster to anchor off a sand spit at the entrance to a bay in Puget Sound, Kitsap County, Washington Territory. The location would become known as Port Gamble, site of a steam sawmill owned by the Puget Mill Company. The Foster was loaded with the machinery and supplies needed to construct the mill, and aboard were workers from Maine to build and operate it. As the resident partner and superintendent, Capt. Keller had also brought his family. In little more than a week, he had the mill operational. Before his death nine years later, the mill had become the largest single industrial enterprise in Washington Territory; Port Gamble was well on its way to becoming a model company town; and the Puget Mill Company was established as a major factor in Kitsap County's ranking as the richest county in proportion to population in the country, a position it held for a quarter century. Before closing in 1995, the Port Gamble mill was the longest continuously operated sawmill in North America.
Gravestones for Josiah's first wife and two children.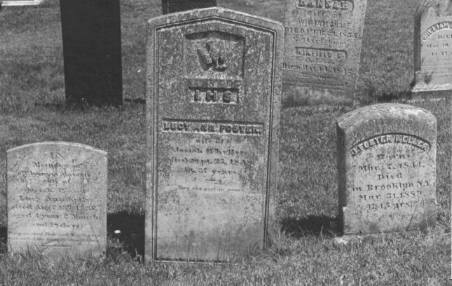 East Machias Cemetery
In Memory of




Thomas Martin




son of


Josiah F. and
Lucy Ann Keller
died Aug. 18th 1837
aged 1 year 2 months
and 18 days



Sleep on sweet babe & take thy rest God called the home He thought best.

Lucy Ann Foster




wife of




Josiah F. Keller


died Sept. 23, 1848
AE. 37 years
------


may she rest in peace

(Lucy was Josiah's 1st. wife)

J. Foster Keller


Born
Mar. 7, 1844
Died
in Brooklyn, N.Y.
Mar. 31, 1889
AE 45 years
at rest

(Son of Josiah & Lucy)
Although Josiah's middle initial is F. on two of the stones above, he is listed as Josiah P. Keller in the 1860 U.S. Census, East Machias, Maine. He has been written up in many articles and books in the Port Gamble, WA area. In these, his middle initial is always shown as P, never F. Perhaps Josiah changed his middle initial after his second marriage?, or since his middle name is not known, perhaps it was: Finney, Phinney?
---
Links of Interest:
Pope & Talbot - Puget Mill Company history.
Port Gamble Cyber tour - Narrative includes some of Josiah's initiatives as town founder and mill superintendent. Point 10 on the tour shows his gravesite.