KALLOCH FAMILY REUNION HISTORY
---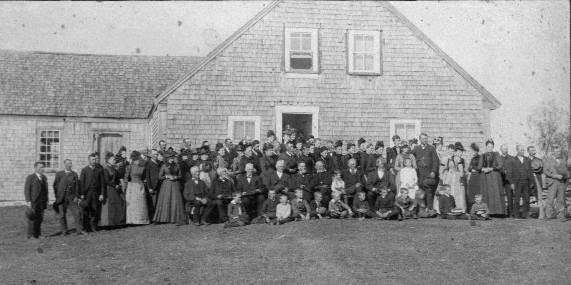 An early Kalloch Reunion, probably in 1875 at the "old Alexander place" in Warren, Maine
"We believe our Reunion is the oldest in America"
When Eliza Butler came home from Indiana for a visit in 1866 her family gathered several times. At one of these gatherings it was suggested that it would be good to gather all the Kalloch clans on a regular basis, among them our founding twins, Nancy (Kalloch) Wall and Rev. Joseph Kalloch.
The first reunion was held 6/23/1867 at the Old Alexander homestead in Warren, then occupied by Mero Kalloch, consisting of about 35 members of the Alexander branch.
Informal for several interim years, meeting at "Kalloch Neck" in 1868 and Lermond Kalloch's in 1872, the Reunion formally organized in 1873 in a meeting at the home of Capt. Jackson Watts in St. George, continuing Rev. Joseph as president. The tradition of "regional" vice presidents was begun with Silas Kalloch (Rockland), Nathan Kalloch (Warren), Henry Kalloch (St. George), Joseph Keller (West Rockport), George E. Cummings (Union), Rufus Kalloch (Ashland), and Edwin Kalloch (No. Warren). In 1875, Washington Robbins (So. Thomaston) and B. K. Kalloch (Thomaston) were added. Attendance increased, 267 in 1876, 500 in 1888, and over 300 in 1894!
In 1879 at the Reunion each of the 126 were asked to sign their name, town and occupation. Kalloch's don't always read instructions carefully but 24 answered with their occupations: 15 farmers, 2 carpenters, 2 truckmen, 2 seamen, 1 hunter, tailor and 1 customs officer. It is important to chronicle families like ours, founded in the 1700's, not the 1600's, and comprised largely of common, hard working, solid citizen type people.
Kalloch Genealogical History
The first committee on genealogy was appointed in 1876 by the President, Rev. Joseph Kalloch and was composed of Bradford K. Kalloch, C. R. Mallard, Deacon Henry Kalloch. And the second item of record we have was the genealogy committee in 1894 was appointed to collect material for a history of the Kalloch family. This committee was composed of B. K. Kalloch of Rockland, Alexander Kalloch of St. George and J. K. Kalloch of So. Thomaston, Geo. G. Kalloch of West Camden, George W. of Warren and Jesse Kalloch of Appleton. That committee seems to function from that time to 1896, when an addition was made and the name of Edward Kalloch Gould was added.
Following Edward's death in 1939, his daughter Marguerite served as historian until about 1973, the last several years with the assistance of Bertha Drewett. Then Bertha served as historian until 1977. In 1978, Peter Richardson became the Kalloch family historian and continues to this day. Peter combined the genealogical work of previous Kalloch historians with information that he gathered, and typed it into an 1830 page Kalloch genealogy manuscript. In January 2002, he gave a copy of this manuscript to Ken Kalloch. Ken then typed all the data from it into a computer database finishing in March 2002, the database had 9136 individuals. This database of Finley Kelloch's descendants can now be viewed on the website by going to the Family Genealogy page, and can be viewed on Ancestry.com as the Kalloch Family Reunion Association Tree.
---
Two Centuries Back (From 1923 Newspaper article), B. K. Kalloch Traces Family Tree - Reunion Held At Oakland Park in Rockport, Maine.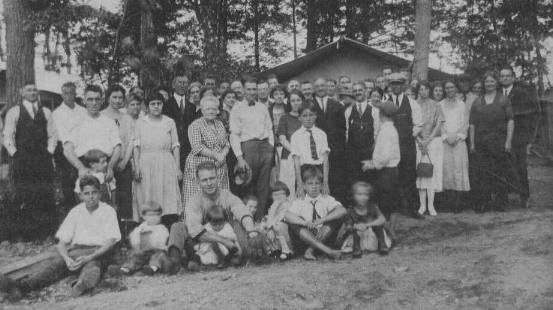 A gathering of Kalloch's - early 1900's, probably 1926
My (Ken Kalloch) grandparents Sumner and Ethel Kalloch are in the back on the right. Sumner has a cap and tie on, and Ethel is to his left with a dark dress on (2nd & 4th from the right). I think that the child in front, 2nd from the left is my father David, and the 2 children in front on the right are my father's brother Richard and sister Elaine. Can anyone identify anyone else in this photo?

Our tinware "Reunion Coffee Pot"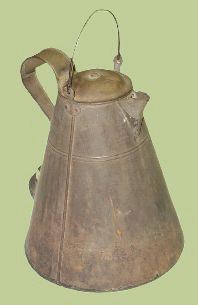 Frank Seavey Kalloch, the son of our first Reunion Association president,
Rev. Joseph Kalloch, sold tinware, and this is one of his tinware coffee pots.
At our early reunions it was used to brew coffee, but for our present-day reunions
it is passed around each year to collect donations from reunion attendees.

---