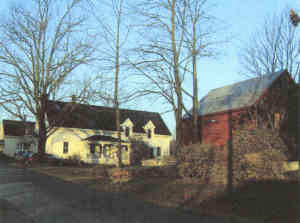 (Photo taken autumn 2003)
History of 22 Mechanic, St. in Rockland, Maine

Site of the

2003

and

2004

Kalloch Reunions
Peter and Eleanor Richardson hosted the 136th & 137th annual Kalloch Reunions on land which once belonged to Peter's great-great-grandparents, co-founder of the Reunion, Rev. Joseph Kalloch and his wife, Achsah Ingraham Kalloch. Just before the Revolution, Joseph Ingraham appeared as the first settler on what became Ingraham's Point, on 200+ acres stretching from the sea to the Thomaston line.
Landmarks today are the abandoned grain elevator and Atlantic Wharf, built by Ingraham's son Henry and now owned by Dragon Cement Co. Henry's daughter Achsah married Joseph Kalloch in 1837 and Henry deeded land on both sides of Mechanic Street to her. Joseph and Achsah's son, Frank established himself across the street and made a living selling tinware. To house his supplies, his team of horses and wagons he obtained the "Shop" from one of the Ingraham shipyards. He cut it in two and with oxen dragged it from the sea across the street to its present location as our "Red Barn."
His wife, Almeda Thomas Kalloch, planted the large ash tree at the street. It was a "weed tree" that refused to die. Old timers will remember Frank and Almeda's daughter, Mabel Kalloch Rollins, long time chaplain of the Reunion, who with her husband turned the "Shop" into a party barn, which it remains to this day. She and her sister, Edith, Peter's grandmother, grew up in the house he and Eleanor now occupy. Peter is the seventh generation in line on this site.
At each reunion the Richardson's shared much more of this story and brought out artifacts, including the tinware Reunion Coffee Pot Frank Seavey Kalloch made expressly for Kalloch reunions!