1867 - KALLOCH NEWSLETTER - 2010
---
My candle burns at both ends,
It will not last the night;
But oh, my foes, and oh, my friends,
It gives a lovely light.
----Edna St. Vincent Millay (1892-1 951)
AT THE REUNION: Our 143rd reunion will be held at the First Universalist Church at 345 Broadway, Rockland Maine, thanks to the efforts of Eleanor and Peter Richardson.. The Reunion date is August 21, and as always, an interesting agenda is planned. Please check the reservation form for further details, as well as from the President's message.

Please note: I have taken the liberty to add Elinor Johnson's essay about her cousin, Edna St. Vincent Millay, as written for the 1999 Kalloch newsletter.
Hope to see you in August.
Evelyn
NOTES FROM THE PRESIDENT: We are listening to your input and are trying a few new things this time. First the location is new, The First Universalist Church at 345 Broadway (Rte. 1A) in Rockland. Second we offer the option of bringing your lunch to economize. Bring a sandwich and something to share. (Those unable to, can have lunch for $7.00 at the reunion) Third we will divide the program into three segments for those unable to stay all day: 9:00 A.M. Genealogy; 11:00 A.M. Business meeting; 12:00 P.M. to 1:00 P.M. lunch. At 1:30 P.M. we are most fortunate to have a program of poetry led by Rockland's newly named Poet Laureate, Kendall Merriam. Others will be reading as well, including Anita Nelson and Peter Richardson. Any other poets in the family? Fred Kalloch will entertain us with his guitar to complete the program.
In addition we are offering a genealogy contest for those under 18 years of age who will bring a fan chart (see copy of chart) of their own family tree to the reunion. A $25.00 prize is offered for the young person with the most names. All other contestants will go into a drawing for another $25.00 prize.
A number of us went out to dinner last year after the reunion, with great success. That can be organized on an ad hoc basis the day of the reunion.
Please keep your eyes and ears open for any other Kallochs/Kellers who might be interested in attending the reunion, and give them a warm invitation.
By Eleanor Richardson, Pres.
---
NEWSWORTHY: In honor of National Poetry Month and the many events associated with the celebration of Poetry Month in Rockland, the Public Library an evening of readings by local poets. Among them was Kendall Merriam who earned the Poet Laureate designation. Congrats, Kendall.

David Kalloch, son of Kenneth Kalloch of Concord, NH, and Jonathan Kalloch, son of Phillip Kalloch, of Gorham, ME, graduated from Maine Maritime Academy in Castine, ME with degrees in Marine Engineering. Congratulations to these men. Great job!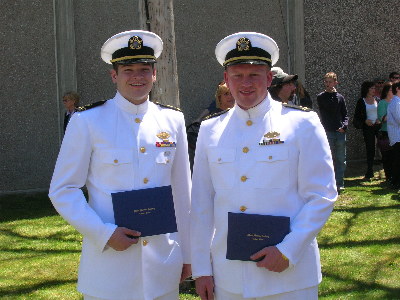 David and Jon Kalloch
Maine Maritime Academy Graduation
1 May 2010

Long time members of the Kalloch Assn., Robert and Agnes Crabtree celebrated their 70th anniversary at a reception in their honor Nov. 29th at the Simonton Corner Masonic Lodge. Bob is a past President of the Kalloch Assn.

Long time member, Zame Crocker of San Diego. CA once again generously sent a donation to the Kalloch Assn. last November.

Speaking of poets, once again Edna St. Vincent Millay came into play in March. March being Women's History Month was also Edna's 118th birthday. As everyone knows, she was born in Rockland, ME and was Pulitzer Prize winner of note. Many celebrations were offered in this area, one of which was a rendition of her play "Conversation at Midnight" presented by the Everyman Repertory Theater group in several locations. The University of Maine is offering a prize of $1,500 to graduate students of English or poetry for a winning submission of poetry. The creation of the Frank and Helene Crohn Edna St. Vincent Millay Prize was established by the Crohns of New York through a gift held at the University.

OBITUARIES: Mary B. Demetri of Rockland died Sept. 29, 2009 after a short illness. She is survived by her grandson, Sean John Kalloch and his wife Jessica of San Diego, CA, as well as two daughters and a son.

James Heald. of Thomaston died June 2, 2009. He was the son of John and Doris Heald. He is survived by three sisters Alta Lamber, Germaine Gooldrup and Joan Wentworth; two daughters, Vicki Fales and Jenna Heald; three sons, Aaron, Isaiah and Randy Heald; and several step children
---
OBITUARIES (cont'd): Lucinda Montgomery died December 12, 2009. She was a St. George resident and was the daughter of Walter and Adrienne Robinson Polky. She is survived by three sons, Reginald, Russell, and Raymond; daughter Lucinda Hall; four brothers. Sylvanus, Adrian, Timothy, and Hildane; one sister Nancy Copeland, and eight grandchildren.

Glenice K. Bickmore died January 19, 2009. She was the daughter of Jesse and Maria Oxton Keller. In 1939, she married Rev. Noyce D. Farmer, Jr. He enlisted in the U.S. Navy and was later killed while serving aboard the USS Norman Scott. Glenice married Burton Bickmore in 1958 and resided in Rockport. She is survived by two daughters, Joyce Berg and Becky Bickrnore, one grandson and two great grandchildren.

Jacqueline Ann (Lavoie) Kalloch died July 4, 2009 at Concord, NH. She was the daughter of Leo and Estelle (Fontaine) Lavoie and a life long resident of Concord and Pembroke. She is survived by her husband Richard Kalloch, two sons James and Mark, one daughter Karen, one brother Emile Lavoie, 6 grand children and one great grandson.
QUILT SQUARES: Would love to get more family quilt squares for our wall hanging. They should be 12 1/2 inches square, allowing for a 1/2" seam.
DONATIONS: We welcome any donations you can give. We are a nonprofit organization which sponsors annual reunions, promotes research and publications of family genealogy, and undertakes projects of interest for the membership.

MANY THANKS TO the officers and committees for the planning of our reunions. Alex Gross who has provided one his wines annually for auction, Norm Kalloch, Jr. for providing the data base and address labels, and to Ken Kalloch, our webmaster who undertakes the responsibility of the web site. The Kalloch Home Page is http://www.kalloch.org. Thanks also go to Peter Richardson, Historian and to Dean Mayhew, Historian Emeritus for years of genealogy work. Thank you also to Eleanor Richardson, current President, who devised and is handling this year's reunion.

Evelyn N. Kalloch.
(Included in the printed and mailed copy of the Newsletter were the Minutes from last years reunion, and the Treasure's Report).
---
ABOUT EDNA ST. VINCENT MILLAY.... By Elinor Collemer Johnson
"Edna was born in Rockland, Maine on Feb. 22, 1892 to Henry and Cora Millay. I believe her name has been interesting to many people, specifically the "St. Vincent" part. While Cora Millay was expecting her first born child, news came to her that her youngest brother had received serious injuries aboard ship during a bad storm at sea. She learned that her brother had been taken to St. Vincent's Hospital and his good health was restored. Fully expecting that her coming child would be a boy, she decided that "he" would be called "St. Vincent". She wished to honor the hospital for saving her brother's life, and also because St. Vincent was the patron saint of the sick. When a tiny girl arrived instead, the first name, Edna, derived from an old Norse word, for poetry, was chosen with St. Vincent for the middle name."
"Two sisters followed Edna, Norma and Kathleen. A strong difference of opinion developed between the parents about bringing up the girls. Cora loved to write poetry, read literature, and listen to music. But, with three young daughters taking most of her time, there was none left for her artistic yearnings. She longed for the girls to have what was no longer possible for her. People described Henry Millay as a handsome man and very nice. There were some stories that he gambled. Cora decided on a divorce, a decision very unusual for those days. Edna was seven at the time, and the divorce made a very difficult time for them all. Cora became a practical nurse to take care of her family. Being a divorced woman added to heavy responsibilities of raising three girls alone, but being a brave resourceful woman, her love, inspiration and hard work made them a closely knit family and they survived. Edna (or Vincent), as she preferred to be called, had to be in charge of the home while her mother worked away, often for days at a time. It was understood that Cora would not mind if the dishes were left in the sink, the floors unswept, the beds unmade if the girls listened to music, played the piano, read books, or wrote poetry."
"One cold day, when they were living in a house without any foundation, the pipes froze and burst Vincent did not panic. Instead of calling her mother, she called her friends to come over soon because the kitchen floor would be frozen and she planned to hold a skating party. Of course, her friends happily attended. Cora came home and joined them"
"An adventurous childhood of freedom gave Vincent the opportunity to roam the Maine woods and explore the rocky shore. Mt. Battie was a favorite spot of hers. My Aunt, Agnes Prince (mother of Ruth Prince Baker, who comes to our reunions), would go with Vincent up to Mt. Bathe to pick blueberries. All of these adventures into the natural world instilled qualities that remained throughout her life, a fierce independency of spirit which made for spiritual renewal. These same qualities are the backbone of her poetry. Vincent graduated from Camden High School in 1909 where she achieved a good academic record and continued her poetry writing, that began when she was a young child. At her graduation she received a gold piece that was awarded for her "Joy of Living" writing. In later years, she said that it meant more to her than all of her later successes."
"Vincent had completed "Renascence" when she was about 20. At a gathering at White Hall Inn, she recited the poem. A lady guest was very favorably impressed and offered Vincent the opportunity of an education at Vassar. The door was opened for Vincent to go out into the world and start a great career in literature. All was not smooth sailing at Vassar. Vincent had not been one to live with schedules and structured living. This soon became evident when she entered Vassar. On several occasions her temperament got her into difficulties. Once she was nearly expelled, however, she graduated and persevered on to greater things. After college, she lived in Greenwich Village. " My Candle Burns at Both Ends" was to become the anthem of the spirited 1920's that celebrated the unconventional and avant-garde in literature and art. In 1923 Vincent became the first woman to be awarded the Pulitzer Prize for poetry."
"In 1923 she married Eugene Boissevain. They bought "Steepletop" and traveled, spending much time on Ragged Island in Maine. He died in 1949 of lung disease. Vincent died on Oct. 19, 1950 of a heart attack, after working through the night. In her poem "Marturus" she claimed that she would put up a valiant fight against death, but when the time came, she left this world quickly and peacefully at age 58."
Note: Thank you Elinor for a great story!!! Elinor is closely related to Edna, being a second or third cousin, once removed. Edna's statue can be seen at the lower end of the park in Camden, behind the library. It is close to several pine trees so is not readily visible from Street. E.K.