1867 - KALLOCH NEWSLETTER - 2015
---
You are cordially invited to the 148th Kalloch Family Reunion
Saturday, August 15, 2015, 9 a.m. to 3 p.m.
at
The Finnish Heritage House
State Route 131 (172 St. George Road), South Thomaston, Maine 04858

The 148th Annual Kalloch Family Reunion will be held Saturday, Aug. 15, at the Finnish Heritage Center (top photo) on Route 131 in South Thomaston, ME. This is conveniently located just one mile off Route 1. In addition to socializing and genealogy, Art Jura, for whom Jura Hall at the Finnish Center is named, will speak to us about the Finnish influence in the Rockland area. This location is close to Montpelier, the reconstructed home of Washington's Major General Henry Knox, and we have arranged a private tour of that monument in the afternoon, by reservation only. A special program is being arranged for our children. For more information, see the registration form in this packet.

From the President, Anita L. Nelson
To our Wonderful "Kalloch" Family, Collectively: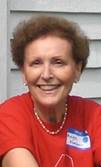 You will be pleased to know our Kalloch Planning Committee held a great session Saturday, May 23rd, at Peter and Eleanor Richardson's in Rockland, and we are still going strong. We worked on plans for this year, including great plans for the 150th. And, for the very first time, I got to view the 125th Video, made by Eileen Pettit, my Sister Dee's daughter, in 1992. It was just fabulous, and we had a wonderful time! But, I have to say, that I am prejudiced, as I was very fortunate to have many of my children and grandchildren attending and sharing with me, a well planned, and organized Reunion. Our TEAM, did a great job keeping Kallochs focused by several newsletters for two years beforehand, so you knew the agenda, housing, sights, and entertainment. I believe, the KALLOCHS, can do it again!!

As a committee, we discussed our strengths and our weaknesses, and for me, the biggest weakness that I see, and is outstanding, and stares me in the face every year!! THE CHILDREN!! Where are the Children? I believe we could provide support and entertainment for families who have young children, and more families could be attending! You had the same dilemma when your children were young? The inevitable question is: "If they only had something for my children to do!" So, at this year's Reunion, I am taking it upon myself to do just that! I plan on hiring two people, to provide items of interest and fun for our children to be doing in tandem with our time, but in their own section of space. SO TAKE NOTE: Is there someone within our own families, and/or teenagers, who are willing to work for that day? And, if not, I am sure there must be contacts within these towns, of friends and families, preferably with references, or someone we know personally, that I can arrange to work with us. Call me! Our greatest hope is engaging all the wonderful family members we have, who enjoy meeting, and reading about their family, and meeting their kith and kin. We need them to carry on with us and sustain us, and I have great hopes!

Anita L. Nelson, President, 860-460-7526.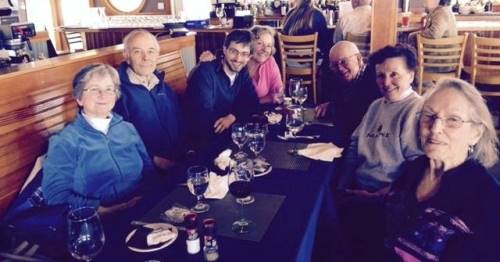 Your Planning Committee enjoyed lunch after the meeting. From left: Eleanor and Peter Richardson, Paul
Wilson, Vickie Levesque, Bob and Anita Nelson, Evelyn Kalloch
147th Kalloch Family Reunion Association, Minutes – August 16, 2014
Grange Hall, St. George, ME
Present: 29 people
Secretary's Report - Eleanor Richardson. Moved, Seconded and Voted (MSV) to accept. Eleanor read names on Newsletters that came back, for address corrections.
Treasurer's Report - Paul Wilson. written. Beg. balance July 31, 2013 was $2249. Donations 2013 were $1140 which includes $625 from the annual meeting. Annual meeting 2013: $130 from registrations & auction. 2014 registrations: $75. 24˘ interest. Total income: $1345. Expenses Web & Historian: $394. plus $78 outstanding bills due = $472. Newsletter: $318. 2013 Annual Meeting expenses were $50 after the books closed.
Monument repair: $600. Total: $1362. Balance 7/30/14: $2232.
In Memoriam: Births, Marriages and Deaths this year were read from the newsletter. We had a moment of silence for those who had died.
Gravestones: No new repairs are needed that we know of. Please report broken ones if you know of them. Adam Boyd Kalloch in St. George, recently repaired, was ancestor of many, including Ken Kalloch. We walked to visit his newly-restored stone after lunch.
Visit our Website! Ken Kalloch: The website July-August averaged about 100 visitors/day. Our family tree is on Ancestry.com, also Kalloch.org, 22,326 people. Since last August Ken has added 5743 people. 3667 photos are attached to those people. Margaret, Finley's daughter married a Boyd. Her great-granddaughter Angeline Hodgkins was b. 1820 in Nobleboro, m. Moses Horne. Angeline's obit. from Library of Congress: "Death of Pioneer" 1902, says she had 3 daus from Moses Horne, 1 son from Albert Perry Rockwood, 27 grands, 68 gt. grands. We need to connect with them before the 150th!

New Business: Paul Wilson suggested that as we have $159 left in the funds for the website, we allocate $441 more to bring it up to $600. MSV. Ancestry subscription was $130, but is free because Ken has an LDS subscription.
150th Reunion is coming up in 3 years, August 19, 2017. A committee was formed to plan for 2015 and 2016 along with the 150th: Peter and Eleanor Richardson, Anita Nelson, Pat Stephen, Jack Hammond, and Paul Wilson. We can use Skype. Maybe also Pat's granddaughter in Pulaski, VA, and Hannah Spongberg in Brooklyn, NY.
MSV to have lunch brought in next year: Sandwiches or lobsters or lobster rolls.
Ideas: Children's games, talent show. Union bus tour was great too. Sell T-Shirts, hats, shirts & cups.
Speaker: Vickie Levesque suggested acquiring money for an annual featured speaker, with planning in early Fall.
Place to meet: Finnish Hall. Historical Society in the Keag, Samoset, Rockland Golf club, Rockland Elks, Beaver Lodge in Hope. A small committee led by Anita will look at locations.

Gifts: (generously provided by Sandy Zimmerman)

Youngest: Liam O'Dwyer
Newest: Amy Hammond O'Dwyer
Oldest: Barbara Wilson
Furthest traveled: Pat Stephen
Longest Married: Fred and Gail Kalloch 46 years
Early Bird: Eleanor Richardson and Helen Campbell.
Door prize: Fred Kalloch

Election of Officers: MSV to elect the following slate.
President: Anita Nelson Vice President: Deb Lovely
Treasurer: Paul Wilson Chaplain: Pat Stephen
Secretary & Newsletter Editor: Eleanor Richardson
Historians: Peter Richardson & Ken Kalloch, Webmaster and Historian
Assistant Historian: Paul Wilson; Historian Emeritus: Dean Mayhew.
Registrar: Sandy Zimmerman & Assistant Registrar: Helen Campbell
Collected in the Coffee Pot: $186.50.

Also attending: Gail & Fred Kalloch, Nancy Greenwood, John Hammond and his daughter Clare & her son Liam O'Dwyer; Mike McLellan, Monty & Moe Kalloch, Barbara Wilson, Elaine Robbins, Bob Nelson, James Skoglund, Maya Kalloch, James Kalloch of Rutland, MA, his daughter Judith & David Getman, and David Kalloch of Nottingham, NH.

Afternoon Program was by Peter Richardson on the history of the Kalloch family, followed by a walk to see newly-restored Kalloch graves in St. George Cemetery.


Family News
From Julia Hunter in November: On the West Coast, we've been marking family events this week. Last Saturday, parts of the Andrews clan gathered to celebrate the arrival of baby Hallie Dillon Andrews, daughter of Gabriel Ross Andrews and his wife Heather. Hallie was born last month. At the same time, Hallie's great-grandfather, Daniel Keller Andrews, was in his final days with widespread cancer. He died on Wednesday, November 19, at age 90. We had been down to see him twice in the last month, and two weeks ago I took him some pie made with Maine blueberries (thanks to Wyman's frozen berry marketing). We head east for Thanksgiving on Monday. Maybe I'll get lucky and run into some of you.

From Shirley Ann Thomas: Sorry I haven't been [to reunions] lately. I came for the family history & stories. I came with my sister Janice Knowles several times. She is not at all well and could use some prayer. I try to help with the caregiving when she is out of the hospital or rehab as she is now. Money was a concern when we went. The place we stayed @ for the 125th and many times later has been sold. Introducing my husband to Maine has made him love it. so I hope to be going this year. I live in Mass. with my father now and for the foreseeable future.

Dottie Blackman: We unfortunately cannot attend as my husband is not able to drive nor in fact take long trips and I only drive locally. We are 450 miles away. He will be 83 in a few months and I, 82. We do want to keep in touch – I've turned over copies of all Kalloch info we have to my daughter, Deborah DeForest, who is continuing our genealogy searches for all sides of the family. She was with us for the 125th reunion. We are glad to have the group photo taken then.

Capt. Jim Kalloch ran for State Representative in District 93, Rockland, and Owls Head, last November. He said, "I consider it a privilege to have served my country for 30 years. I now want to serve my state and particularly the people of my community as their Representative to the Maine State Legislature." Unfortunately, his bid was unsuccessful, but we enjoyed seeing "Kalloch" signs all around the countryside.

Sam Clark, 16, grandson of our erstwhile treasurer Margaret Carleton and son of Cathy Clark of Rockport, ME, and Russ Clark of Portland, received a heart transplant Dec. 14, 2014 at Boston Children's Hospital. Sam's heart had been affected since birth by a virus his mother was exposed to before he was born. In November, a left ventricular assist device (LVAD) was surgically inserted into the left ventricle of the heart. Five days later the call came that they had a heart! After surgery, Sam and his mother had to stay in Portland, close to Maine Medical Center, for a couple of months. On Feb. 25th, Sam came home!! He joined the heart rehab program at Pen Bay Medical Center to monitor and expand his exercise/wellness -- and will stay on a monthly checkup at Children's. Sam returned to school at the end of April.

Bob Crabtree, a former KFRA President, celebrated his 100th Birthday Sunday, March 29, 2015, at the Rockport Masonic Center. Cards, even now, could be sent to his home at Quarry Hill, 30 Community Drive, Camden, Maine 04843. Bob's four remaining siblings were also planning to be at the party (must also be Kallochs). His wife, Agnes, died a couple of years ago. For many years, they were the "longest married" at our reunions.

"The Four Questions"

During the winter, we sent four questions to all those who had email. If we don't have your email address, we would still love to hear your thoughts on these (send to Eleanor Richardson, 22 Mechanic St., Rockland, ME 04841, Grandmoot@aol.com).

1. What brings you to Reunions? and... are you part of a family subgroup that likes to attend together?
2. What did you get out of the reunions you attended, or what did you find memorable?
3. How can we get the next generation involved?
4. How much are you willing to spend? This is especially relevant for our big bash at the 150th!

Common themes in the replies:
Learning
Genealogy
Visiting Maine: "Are you a just a tourist, or do you have a special connection?"
"Come back to the Real Maine and find your roots!"
"just being together - everyone in the room is probably my cousin"
Good food
We are Ageing – need to encourage our children and grandchildren to come
Distance traveled to get there means we can't come every year

In Memoriam
Daniel Keller Andrews, 90, passed away Nov. 19, 2014. Born and raised in West Rockport, ME, he was the son of Sidney and Mary (Keller) Andrews. Unable to be drafted into the Army because of poor eyesight, one of the proudest moments of his life was when a second draft came for able-bodied soldiers and the recruiting doctor turned a blind-eye to his bad eye and let him enlist. Serving his country as a sergeant in the 81st Air Service Squadron in WWII, Dan was stationed in Italy, Yugoslavia, Malta and Tunisia fixing aircraft instrumentation. Through the GI Bill, Daniel earned his bachelor of science in poultry husbandry at the University of Maine, then continued at Kansas State. There he met Leoma Nehring, the love of his life, who would soon provide him with five rascal sons and a beautiful daughter. The family lived and worked in IA, PA, NY, CT and WI. At University of Wisconsin, Dan earned his Ph.D. in poultry science. Their final move in 1963 brought the family to Puyallup, WA. Dan worked 30 years as a poultry specialist, doing research and extension work for Washington State University and traveling abroad with USAID to Yemen. He was author of many professional articles. You may have read some of his more famous works, "Care of a Small Flock of Chickens" and 1983's darker "Guide to Culling Hens". Sadly, Leoma died in 1976 as the children were leaving the nest. An ideal day for Dan at his house on Trout Lake would be mowing the lawn and finishing with a cold lager, a bowl of ice cream, and reading the daily "funnies". In 1992 he met his sweetheart Vaneda Stonack while volunteering at the Puyallup Fair. The two would travel the world together, enjoying cruises and vacations in warmer climates of Mexico. Dan was a loving Grandpa to 27 grandchildren and 10 great grandchildren. He is survived by Vaneda, his sons Leonard, Daniel, Joel, Gerald, and Martin Andrews, daughter Mary Baldridge and his sister Nancy Hunter.

Richard D. Kalloch Jr., 79, formerly of Pembroke, NH, died Feb. 14, 2015, at his home in South Carolina. Richard was born and raised in Concord, NH, a son of Richard D. and Pearl (Snow) Kalloch Sr. He graduated from Concord High School in 1953 where he lettered in baseball and band. He was later active in the Sunset League for the United Life Team. Richard was a veteran who proudly served in both the U.S. Navy and the U.S. Marine Corps, as a Medic in Vietnam in 1968. Following the War, Richard worked as a nurse for the Regional VA Medical Centers in Providence, R.I. and later in Manchester, NH. He was a member of the Knights of Columbus. He was predeceased by his wife, Jacqueline, his parents, Dick Sr. and Pearl; and a sister, Patricia Tamarac Snow. He is survived by his two sons, Mark and Jim both of Concord; a daughter, Karen D. Kalloch of Concord, a brother, Dan Kalloch of South Berwick, Maine; a sister, Bonnie Bluefield of Farmington; six grandchildren; four great-grandchildren and several nieces and nephews. He was first cousin to our webmaster and historian, Ken Kalloch. Burial was to be at the New Hampshire State Veterans Cemetery in Boscawen, NH.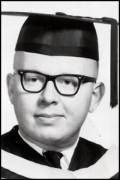 Dean Mayhew of Orland, ME, longtime Kalloch family historian, entered into rest on January 15, 2015. He was born in Camden Nov. 3, 1936, to Captain Raymond E. and Naoma (Dean) Mayhew. Dean earned an M.A. in History at University of Maine and a PhD from LSU. He joined the faculty at Maine Maritime Academy in 1967 as a Professor of History. In 1972 Professor Mayhew coordinated an effort between MMA and MIT to locate and investigate the remains of a shipwreck, the privateer 'Defense' leading to the recovery of several historical artifacts. Professor Mayhew was considered an authority in the history of the Killough/Kelloch Family, tracing our history back into Scotland, and attended many reunions with his wife of 45 years, the late Mary Ann (Johnson) Mayhew. Dean was predeceased by his wife and one son, Peter Richard Mayhew. He is survived by two children; Mark Daniel Mayhew of Scarborough and Rebekah Laurel Mayhew-Dale of Orland; grandchildren, Cassidy Hayley Mayhew, Wyatt Daniel Mayhew, Masen Dale and Makayla Dale. A funeral was held January 23. Burial was to be at Maplewood Cemetery, Lincolnville.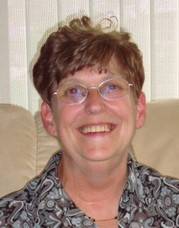 Susan K. Rice, 65, passed away May 6, 2015, in Merrimack, NH. She was born April 4, 1950 in Somerville, MA, the daughter of the late Roy G. and Elva (Newton) Oxton. She married Robert Rice on May 22, 1971, in MA. Susan was a high school graduate that worked as a metered mail employee for Fulfillment Plus before her retirement. Prior to working in metered mail, she worked doing assembly. In her free time, Susan loved playing Bingo and working the slot machines. She also really loved playing with, and spending time with, her three grandchildren. Susan was predeceased by two of her brothers, Teddy and Glen Oxton. Along with her husband Robert Rice, she is also survived by her children Lori Giltz and her husband Shawn, and Bryan Rice and his wife Karen, all of Nashua; her three grandchildren, Zack, Logan and Corey; her siblings, Alfred Oxton of AZ, Gordon Oxton, Flora Oxton and Donna Simmons, all of Billerica, MA, and Ann-Marie Iozzo of Nashua NH.

Victor Emmanuel Lawrence, 85, husband of Jeanine (Gross) Lawrence, and frequent attendee at Kalloch Reunions, passed away May 26 in New London, CT, after a short illness. He was born April 27, 1930, in Grand Case on St. Martin in the Caribbean. He was one of 13 children of Victor Augustin and Marie Antonine Lawrence. Victor was born in the middle of the pack, and with an older brother helped on his father's farm raising cattle and mules to sell, along with many other animals for family consumption. He grew up with a beautiful sandy beach for a playground which was their treat after chasing cattle down from the mountainside for their daily milking on hot sunny days. Earning a living for himself necessitated a move to the island of Aruba to work at an oil refinery, since there was no work on St. Martin, nor any farmland. His three years in Aruba were some of his favorite memories. He saved enough to emigrate to the United States where he met and married his wife of 59 years, Jeanine Anne Gross, who survives him. Since retiring from Pfizer in Groton, CT, his joy was spending winters on St Martin where he and Jeanine enjoyed the local cuisine, danced to the calypso music of local musicians, and re-connected with family and friends on the island of his birth. He was predeceased by one son, Edward John Lawrence, and eight siblings: Jean Laurence, Marie Laurence, Elsie Rogers, Leoncie, Raymond, and Eugenie Laurence, Yvette Fuller, and Melicente Dowsett. Surviving siblings are: Etienne Lawrence and Doris Laurence, both of Waterford, CT; Marie Kowalewski, of Montville, CT; and Auguste Lawrence, of Lake Mary, FL. He leaves four children: Julie Greco of Waterford, CT; Victor Lawrence of Dublin, OH; Patricia Ann Cady of Charlottesville, VA; and David Lawrence of Ringgold, GA.; and seven grandchildren: Jarrod Cady of New York City; Nicholas Cady of Charlottesville, VA; Andrew Cady of Roanoke, VA; Victor Lawrence of East Lyme, CT; Vanessa Rhoads of Milan, MI; Brittany Greco of Waterford, CT; Victoria Greco of Waterford, CT; and two great-grandchildren. Burial was at Our Lady of Perpetual Help, Quaker Hill, CT.

Kalloch Family Reunion Association
c/o Eleanor Richardson, secretary
22 Mechanic St.
Rockland, ME 04841