Births
John and Julia Richardson Rudolph of New York City and big brother Henry Rudolph welcomed new baby George Elford Morris Rudolph on September 8, 2012. He weighed in at 8 lbs. 5 oz. Grandmother Rachel Ralton Richardson Zoller of Newcastle, ME, reports: He is adorable. Henry thinks he's great!


In Memoriam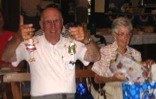 Agnes Crabtree, wife of Robert F. Crabtree who was former President of the Reunion, died Nov. 4, 2012, in Camden. Born in South Hope Nov. 23, 1921, she was daughter of Woodbury W. and Annie (Harris) Lermond. She married Bob Nov. 29, 1939, and they were married almost 73 years. They often won the "longest Married" award at Reunions (pictured at left). She worked 20 years at Chater's Greenhouse, and belonged to many local organizations. Survivors include Bob, and her daughter Patricia Ellen Crabtree of South Portland. She was predeceased by a daughter, Susan Jean Crabtree, a brother, and a sister.



Dorothy "Dot" Ellen (Keller) Hamalainen, 90, widow of David E. Hamalainen, died March 2, 2013 in Camden. Born in Rockland Dec. 14, 1922, she was daughter of Henry Lamson and Gladys E. (Maxcy) Keller and a 1941 graduate of Rockport High School. On Oct. 10, 1942, she married David E. Hamalainen. They lived in West Rockport. Dot worked as a nurse at Knox County General Hospital and Camden Community Hospital. She belonged to Rockland Congregational Church, Mt. Pleasant Grange, and West Rockport 4-H, and was founding treasurer of West Rockport Cemetery. After she retired, she was proud to receive a license to operate a motorcycle. Surviving are two sons, Donald H. of Yarmouth, Robert W. of West Rockport; five grandchildren; and 11 great-grandchildren.


Frank S. Collemer, 79, died May 4, 2013, at his home in Lincolnville Beach. Born in Rockland, March 1, 1934, he was the son of Stanton H. and Berenice V. Oxton Collemer. He worked on his father's Lincolnville Beach poultry farm, and more recently he worked as a carpenter. March 14, 1953, he married Barbara G. Amborn. He was a longtime member of the Lincolnville Beach Fire Department and volunteered many hours in the construction of the new fire station, which bears his father's name. He is survived by his wife of 60 years, Barbara of Lincolnville Beach; two sons, Frank A. Collemer of Warren and Stanton Collemer of West Palm Beach, FL; three daughters, Barbara Flint of Union, Deborah Knutson of Warren, Tammie Cates of Camden; nine grandchildren; and 11 great-grandchildren.


Elinor Marguerite Collemer Johnson, 88, died Jan. 13, in Camden. She was born in Rockland Feb. 25, 1924, the oldest of eight children of Elsie (Heald) and Aubrey Collemer of Lincolnville. She graduated from Camden High School and joined Cadet Nurses Corps during World War II. She graduated from the Augusta General Hospital School of Nursing in 1946 and on Aug. 11, 1946, married Edgar Holmes Johnson. She was a registered nurse in Maine and Connecticut. In the early 1960s, Elinor and Edgar became foster parents to Michael and Deborah. Through her maternal grandmother, Rose Keller Heald, she became an active member of the Kalloch Family Association and for several years was the oldest attending reunions. Elinor is survived by her foster son/nephew, Michael Collemer of Carlsbad, N.M.; foster daughter/niece, Deborah Collemer Lovely of North Gorham; brother Ramon Collemer of Lincolnville; sister, Catherine Collemer DeSimone of Searsport; and sister Marilyn Collemer of Essex Junction, VT. She was predeceased by brothers, Lawrence, Norman, Nathan and Reginald Collemer. A service was held April 27th at the United Christian Church in Lincolnville.


Paula J. (Kalloch) Hoyer, 39, died of cancer Aug. 17, 2012, at the Billings Clinic in Montana. She was born April 1, 1973, in Glendive, the daughter of Thomas and JoAnn (Dietz) Kalloch. A funeral was held Aug. 25 at the First Lutheran Church in Glasgow, MT. A full obituary is available from the Glasgow Courier.


Mary Ann (Johnson) Mayhew, 70, died August 18, 2012. Born in Baton Rouge, LA, Nov. 29, 1940, she was the daughter of Henry and Ruth (Young) Johnson, and was a graduate of Louisiana State University with a major in Journalism. On July 15, 1967, she married Professor Dean Mayhew of Camden. She was a veteran of several national newspapers including The Bangor Daily News, where she won the Marjorie Mills Award for service to women in New England journalism. She was past worthy matron of the Riverside Order of the Eastern Star #123 in Orland. Surviving is her husband, Dean Mayhew of Orland; two children, Mark Daniel Mayhew of Scarborough and Rebecca Laurel Mayhew Dale of Orland; and five grandchildren. She was predeceased by a son, Peter Richard Mayhew. A funeral was held Aug. 22, 2012, with burial in Maplewood Cemetery, Lincolnville.


Barbara L. Perkins, 88, died at home in Rockland, Oct. 31, 2012. Born in Rockland, Aug. 13, 1924, she was the daughter of S. Eugene and Susie M. Flye Lamb. She was a 1942 graduate of Rockland High School. She attended Rhode Island School of Nursing and the Ballard Business School. In 1945 she married Pete Perkins and they had nine children. Barbara worked in the health care field her entire adult life, always making time to still have quality time with her large family. In 1969 the family moved to North Brookfield, MA, where Barbara and her husband bought a go-kart track which they ran until the mid-1970s. Barbara returned to Rockland in 1976 and worked at Knox Center until 2005. She belonged to the Rockland Historical Society, the Rockland Congregational Church and was a director of Rockland District Nursing Association. Barbara was predeceased by her husband, her youngest son, Chuck, her stepson, Preston Perkins, her sister Mary Fales, and two granddaughters, Susan Kohls-Bartlett and Megan Beane. She leaves eight children, Jennifer Proctor of Waterville, Glenn Perkins Sr. of Waterbury, CT, John Perkins Sr. of Pinson, TN, Carleton Perkins Sr. of Quincy, FL, David Perkins Sr. of Washington, Susan Robinson of North Grosvenordale, CT, Cindy Beane of Washington and Robert Perkins of Shelbyville, TN; a stepdaughter, Mildred Perkins of Spring Hill, FL, and numerous grandchildren, great-grandchildren and great-great grandchildren.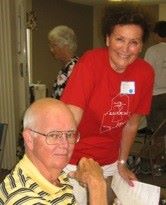 Searching For Aunt Viola
My genealogical research began in earnest when I decided to join the DAR in 2005, and had to prove my lineage as being a Kalloch. But in my heart I also had a hidden agenda. I wanted to know what really happened to my Mother's Mom, Glennie Rowe Kalloch. She died so young, 46 years old. Did she die at home as I was told, or did she really die in the mental institution in Augusta? Our family was always full of secrets, and I learned that to be even more so in my research.

My Grandmother, Glennie, was admitted Nov. 15, 1924, by her husband, Maurice, who was desperate to help her, due to her severe paranoia and fears. In order to complete my Kalloch lineage for the DAR, I had to send for Glennie's death certificate, as they are treasure troves of genealogical information. Now, I would get to hold in my hands the document that would answer years of questions about my Grandmother, the truth about how her life had ended, and why. Unfortunately, it was the answer that I feared! Glennie's State of Maine Death Certificate stated she had died from "Bronchial Pneumonia," with the Contributing cause: "Infective Exhaustive Psychosis," in the Augusta Institution for the Insane on December 3, 1924, and she had only been there nineteen days! Tragic! It was painful to know she had to suffer so, and alone. Once again, I had not been told the truth. But this information encouraged me to dig deeper.

In researching Viola, I had to learn the complexities of our dynamic and fractured family relationships, because my Grandfather Maurice L. Kalloch had married and divorced two sisters: Lula Belle Rowe in 1905, and then Glennie Emma Rowe in 1909. His first daughter Viola was born in 1906, of his marriage to Lula Belle. This made Viola half sister to my mother Glennys (Kalloch) Gross, daughter of his second wife, Glennie Emma. When I saw that Viola Merice Kalloch was listed in our Kalloch Family website as just: born: 1906 and died: ____, it seemed she had just conveniently "disappeared." I knew there had to be more to this. I needed to know if she, too, had a genetic illness.

I also have a very personal interest in family genetics and health concerns as my own children had birth defects. I have one child born with a very serious heart defect, one with three toes mutated, one with Type 1 diabetes, and one child I lost just a few hours after her birth, having been born prematurely. There were also questions for myself from having had an emotional/mental meltdown through menopause and consequently diagnosed with "mild bipolar," which are finally answered.

I researched the 1910 Federal Census, and found Viola M. and her brother George L. living with their real father Maurice and their new stepmother, Glennie Rowe, and documented as being that couple's daughter and son. In the 1920 Census, Viola, now 13, has returned to live with her real mother, Lula, and her new husband, Edward A Davis, Viola's stepfather. That was the last time I could find Viola living with her real family, but I kept on researching.

At last I found Viola at age 23, in the 1930 Census. She was now classified as an "inmate" living in the Pownal State School for the "Feeble Minded," New Gloucester, ME. What a tragedy! I have the deepest respect and sympathy for both my Grandmother Glennie and her stepdaughter Viola. Perhaps this helps me understand why Viola was passed between the two mothers who were sisters and who had married the same man. I found Viola's tombstone on the "Find A Grave" website, "Viola M. Kalloch, b.1906 – d. 1932." She is buried in the Fairview Cemetery, off Rte. 131, Warren, Maine.
Anita L. Nelson, January 30, 2013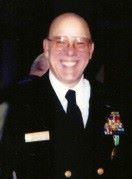 A Remarkable Kalloch
In our last newsletter, Jim Kalloch wrote an informative article on "Kalloch Sea Captains and Crew." But he left himself out! So his sister, Maya Kalloch, has written about Jim for us.

Master Chief James Michael Kalloch was born in Rockland, ME, Sept. 17, 1957, the third of five children of Robert Elmer Kalloch of Rockland, and Virginia G. Roes of Thomaston. At two years old, Jim moved with his family to Owl's Head, where they operated a small salt-water farm near the ocean on Ash point. At age 11 he was expected to venture out into the world and make a living. Jim took to the ocean immediately and began filling bait bags for the local lobstermen, until he graduated to stern man on a lobster boat.

Jim spent as much time as possible skipping school and mischief-making. He neither read nor wrote, nor played sports like the rest of us, preferring always to work and be on the ocean. Everyone wondered what would become of Jim. Eventually he turned 18, and having spent most of his class time either in the principal's or guidance counselor's offices, he quit school, hitchhiked to Bangor, and enlisted in the Marines. Jim's father was furious.

"Don't come back a Quitter," he admonished. After a full physical examination it was discovered that Jim had an ocular distortion, being vertically cross-eyed. He couldn't read because he couldn't see. He was immediately outfitted with a pair of spectacles and from that day to this, he has become a voracious reader and learner. He earned a B.S. in Technical Management and an M.A. in Business.

Jim served in the Marines from 1970 to 1974, spending almost 2 years in Vietnam as a forward observer, directing strikes to cripple enemy defenses. He was honorably discharged as sergeant in 1974, and continued to serve in the USMC Reserve.

In 1977, Jim joined the navy, where he served for 26 years. First he was trained for submarine duty, conducting four major deployments on the USS JACK. He then served performing evaluations on mechanical systems on ballistic missile submarines USS Woodrow Wilson, USS Daniel Boone, USS Casimer Pulaski, USS Sam Rayburn, USS Benjamin Franklin, USS Lewis and Clark and USS Francis Scott Key.

In 1984 he transferred to the Organization Effectiveness Center in Naples, Italy, where he improved the morale and working environment of naval commands in the Mediterranean. His favorite was 5 years aboard the USS Gato. In 1991, at Portsmouth Naval Shipyard he was Command Master Chief (CMC), supervising the quality of life for 985 sailors. In Whidby Is., WA, he led the squadron on two overseas deployments, then went on the Around the World Cruise on the USS John C. Stennis. He returned to Winter Harbor, ME, where he helped in closing the base. He then served a year at the Maine Maritime Academy in Castine, retiring in 2003. The medals he wears are testimony to meritorious service in wide-ranging parts of the world.

Jim came home to Rockland, where he is owner of Pen Bay Transport, and captain of a vessel that serves all of Penobscot Bay. He will take you to visit any island with a wharf, or you can pick a tour: Bennett Island Walking Tour, or Puffin Trips to Matinicus Rock. He also offers charters and freight runs. His web address is www.penferry.com.

From a 1939 newspaper in Australia
To Ken Kalloch: "While researching my Doolan ancestors in Cooktown, Queensland, Australia. I came across an article on the death of Oley Jason Kalloch who appeals in your family tree. Thought you world be interested. Regards, Mike Jones (from Ancestry.com).

DYING BUSHMAN: WILL in Charcoal, Cooktown, Sept. 2, 1939:
Dying of snake bite alone in his bush camp 50 miles from Cooktown, a miner endeavored in his last moments to give legal effect to his wish that his property should go to the man who had befriended him. On a page of newspaper he wrote his will with a piece of charcoal.
When his friend came to visit him several days later he found the maker of the strange will dead in his camp. The man was Oley J. Kalloch, a native of the United States, who had been living in the district for 10 years. The will was found by Constable H. Costello when searching a hut after Kalloch had been found dead by Neil Jenkins, another miner, who had befriended him for the last eight years. Last Monday, Jenkins rode from Mr. Romeo to Kalloch's camp at Mount Ann, in the Bloomfield district, to ascertain why Kalloch had not visited him on the previous Friday. Kalloch had visited Jenkins each Friday, and had been with him on August 18, promising when he left, to return on August 25.

On arriving at Kalloch's hut on August 28, Jenkins discovered Kalloch's body under the bunk, clad in a khaki shirt. Jenkins returned to Grasstree, 12 miles away, and asked John Doolan, a tin miner, to inform the police at Cooktown of Kalloch's death, which apparently had taken place several days previously. When Constable Costello, accompanied by John Doolan, arrived at Kalloch's camp on Aug. 30, they found that Kalloch's great toe of the right foot had been lanced, presumably following the bite of a snake, a ligature tied round the toe, and a rope ligature placed above the ankle. Two aborigines with the party dug a grave just outside the wall of Kalloch's camp, and the body was buried, Constable Costello being satisfied that there were no auspicious circumstances.


(Right) Oley Jason Kalloch, passport photo, 1921. He was b. Feb. 17, 1887, the son of George Henry and Ida (Harris) Kalloch of St. George, ME.

Constable Costello discovered a message written in charcoal on a newspaper on the table Kalloch had used for meals. It read: "Bitten by a big brown snake. About done for. I leave everything to Neilly Jenkins. – Oley J. Kalloch." Doolan recognized the writing as that of Kalloch. A bloodstained pocket knife, freshly sharpened, and Condy's crystals were found. It is believed that Kalloch had treated himself for snake bite. Brown snakes are plentiful in the locality. Kalloch was a fair bushman, and aware of the danger of snake bite. Recently, he had removed his camp from Mount Romeo to Mount Ann, to engage in dairying and gardening. He had no neighbors for 6 miles, and the nearest doctor was 50 miles away, over a difficult trail.

PLEASE SEND US YOUR NEWS AND ANY ADDRESS CHANGES! Eleanor Richardson is editor, grandmoot@aol.com, or 22 Mechanic St., Rockland, ME 04841. If you are willing to receive the newsletter via email, please email Eleanor your address. This will help our budget! The fringe benefit is that you'll get the photos in color!
2013 Kalloch Reunion Reservation Form