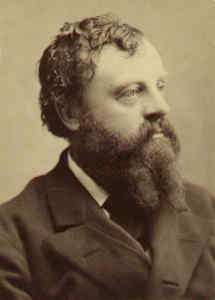 Rev. Isaac Smith Kalloch
1831 - 1887

| | |
| --- | --- |
| (Photo from the Museum of San Francisco) | Isaac S. Kalloch |
Best known of our ten clergypersons, Isaac was a PK (preacher's kid), serving first in Rockland, Maine, then the Tremont Temple Baptist church in Boston, Mass. He is credited with saving that church from financial ruin but soon ran into controversy with "the liquor interests" and worse allegations of sexual improprieties. New England lost one of it's foremost pulpit orators as he moved to N.Y. & then Kansas and founded Ottawa University and the First Baptist church of Leavenworth, Kansas. Moving once again, he became minister of the Metropolitan Temple church in San Francisco and Workingman's Party mayor of the city, (1879-1881). He was shot in the street by an angry newspaper editor. His son, Milton, later shot dead the alleged assassin. Isaac survived and eventually died in Schome, Washington Territory in 1887.
---
Family Stones at Bay View Cemetery, Bellingham, WA

Isaac's obituary, Caroline's obituary

Son Halsey's photo page, Daughter Annie's obituary
---
Granddaughter Nellie May Kalloch's Gravestone, IOOF Cemetery, Sonora, CA
Daughter of Isaac Milton Kalloch & Minnie Belle Street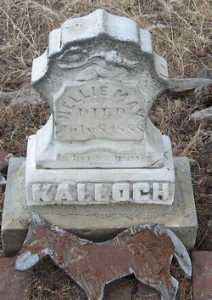 Nellie May Kalloch
DIED
July 8, 1888
She was just 6 precious years old.
---
Isaac S. Kalloch Links
The Golden Voice - This is the book review about The Golden Voice, a book about the life Isaac S. Kalloch, which was published in 1947, by the author M. M. Marberry. [Please note if you find a copy of this book to read, that it was written by a journalist who seemed to be more interested in sensationalism than accurate writing. There are many inaccuracies in this book and is not an accurate accounting of Rev. Isaac's life. Many of the inaccuracies could have been easily verified and corrected (if he wanted to). Marberry also apparently avoided all living family members while writing the book, some of whom were mentioned in the book.]

The Kearney-Kalloch Epoch - by Jerome A. Hart, from the Museum of San Francisco Web site. Also from the Museum Museum of San Francisco: Chinatown Declared a Nuisance!
San Francisco History - Alcaldes & Mayors - Under MAYORS (1850-present), Isaac is #18.
Find A Grave - Isaac Smith Kalloch
Wikipedia - Isaac Smith Kalloch