Plan of the Old North Parish Cemetery
St. George, Maine
(Wileys Corner)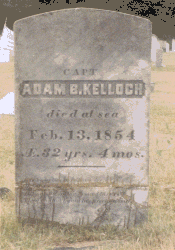 Adam was a great-great-great-grandfather
of webmaster Ken Kalloch.

"His body lies in bottoms deep
Whilst round his tombstone friends do weep
Although the billows round him call
They cannot harm his precious soul"

Table 1
Numbered Lot Locations
(Owners in Table 2.)
(Notes after Table 2.)



Robinson Lot
(North)
Robinson Lot
(South)
Hall Lot
| | | | | | | | |
| --- | --- | --- | --- | --- | --- | --- | --- |
| #2 | #1 | G | #2 | #1 | #1 | #2 | #3 |
| #3 | #4 | a | #3 | #4 | #6 | #5 | #4 |
| #6 | #5 | t | #6 | #5 | #7 | #8 | #9 |
| #7 | #8 | e | #7 | #8 | #12 | #11 | #10 |
| #10 | #9 | | #10 | #9 | #13 | #14 | #15 |
| #11 | #12 | a | #11 | #12 | #18 | #17 | #16 |
| #14 | #13 | n | #14 | #13 | #19 | #20 | #21 |
| #15 | #16 | d | #15 | #16 | #24 | #23 | #22 |
| #18 | #17 | | #18 | #17 | #25 | #26 | #27 |
| #19 | #20 | W | #19 | #20 | #30 | #29 | #28 |
| #22 | #21 | a | #22 | #21 | #31 | #32 | #33 |
| #23 | #24 | l | #23 | #24 | #36 | #35 | #34 |
| #26 | #25 | k | #26 | #25 | #37 | #38 | #39 |
| #27 | #28 | w | #27 | #28 | #(42) | #(41) | #(40) |
| #30 | #29 | a | #30 | #29 | #(43) | #(44) | #(45) |
| #31 | #32 | y | #31 | #32 | #(48) | #(47) | #(46) |
| #34 | #33 | | #34 | #33 | #(49) | #(50) | #(51) |
| #35 | #36 | | #35 | #36 | #(54) | #(53) | #(52) |
| #38 | #37 | | #38 | #37 | #(55) | #(56) | #(57) |
| #39 | #40 | | #39 | #40 | #(60) | #(59) | #(58) |
| #42 | #41 | | #42 | #41 | #(61) | #(62) | #(63) |
| #43 | #44 | | #43 | #44 | #(66) | #(65) | #(64) |
| #46 | #45 | | #46 | #45 | #(67) | #(68) | #(69) |
| #47 | #48 | | #47 | #48 | #(72) | #(71) | #(70) |
| | | | | | Stone | | |
| | | | | | wall | | |
| | | | | | to river. | | |
Table 2
Lot Owners



Robinson Lot
(North)
Robinson Lot
(South)
Hall Lot
#1 Alexander Gilchrest
#1 (Thom)as Jones
#1 Samuel Hinds
#2 P. Graves
#2 Daniel Seavey
#2 [Samuel Jones?]
#3 Fullerton Kelloch
#3 Daniel W. Kinney
#3 Freeman Rackliff
#4 Arch McKellar
#4 Adam Boyd
#4 William Hiram Jones
#5 Andrew Robinson
#5 Haunce R. Kelloch
#5 [William Jones?]
#6 David Kallock Jr.
#6 Thomas Kinney
#6 Andrew Elwell
#7 James Kallock
#7 Daniel B. Kinney
#7 James Thomas
#8 Archelaus Smalley
#8 Haunce Kelloch
#8 John Fuller
#9 Isaac Robinson
#9 John Harrington, Jr
John Handley
#9
#10 Nathaniel Wheeler
#10 J. Robinson
#10
#11 Robert Elwell
#11 William Gilchrest
#11 Edward Gilchrest
#12 John F. Torrey
#12 J. Robinson
#12 Charles Hilt
#13 Archibald Hall
#13 Robert Gilchrest
#13 William Robinson
#14 George W. Gilchrest
#14 Rev. B. Eames
#14 John Robinson
Israel Clark
#15 James Elwell
#15 Jos Robinson, Jr
#15
#16 Samuel Gilchrest
#16 Jan(k)e Kel(a)lar
#16
#17 George Gilchrest
#17
#17 William Seavey
#18 David Wiley
#18 John Wheeler
#18 Thomas Gilchrest
#19 Joseph Watts
#19 Alexr. Kelloch
#19 Ambrose Hall
#20 Thomas Gilchrest
Richard Sayward
#20
#20 Ella?
Benjamin Keller?
#21 John Jameson
#21 David Kelloch
#21
#22 Abigail Wiley
#22 Alexr. Kelloch
#22 David Pierson Jr.
#23 Dennis Fogerty
#23 Geo Harrington
#23 Hezekiah Stover
#24 Thomas Kalloch, Jr
#24 Joseph Watts
#24 John Willard
#25 Henry Gilchrest
#25
#25 Elisha Hall
#26 William Wilson
#26 Ebin Farnham
#26 Thomas Kinney Jr.
#27 John Linniken
#27 John Watts
#27 John Andes
#28 John Linniken
#28 Wid. Robinson
#28 Noah Andrews
#29 James Linniken
#29 Michael Long
#29
#30 Edward Robinson
#30 Samuel Watts
#30 Daniel Hall
#31 Josiah Wilson
#31 Joshua Watts
#31 Elijah Hall 2nd
#32 Moses Watts
#32
#32
#33 Robert Chaples
#33
#33 Alfred Harrington
#34 Henry Smalley
#34 Thos. H. Smalley
#34 William Over
#35 Henry Giles
#35 Thos. H. Smalley
#35
#36 Robert Chaples
#36 Joseph Simmons
#36 Isaac Hall
#37 Adam Wiley
#37 Caleb Stover
#37 Elijah Hall
#38 Leonard Willard
#38 Davis Piersons
#38 Samuel Elwell
#39 Samuel Elwell
#39 Joshua Smalley
#39
#40 Ephraim Robinson
#40
#(40) Caleb Hall
#41 John Gilchrest
#41 Joshua Smalley
#(41) Jeramiah Hall
#42 Daniel Elwell
#42 Orket Gilchrest
#(42) Caleb Hall
#43 Israel Elwell
#43 Bart Smalley
#(43) Jacob Robinson
#44 John Robinson
#44 Aaron Smalley
#(44) John Hawes
#45 Ezra Chapman
#45
#(45) Johnathan Clark
#46
#46
#(46) Robert Wall
#47 Town Lot
#47 George Chaples
Town Lot
#(47) Robert Wall
#48 Town Lot
#48 Town Lot
#(48) Matthew Keller
#
#
#(49) Thomas MGukian
#
#
#(50) [Aaron Simmons]
#
#
#(51)
#
#
#(52) Stephen Maxwell
[Daniel Pierson]
#
#
#(53) [John Seavey]
#
#
#(54) Joshua Smalley
#
#
#(55)
#
#
#(56)
#
#
#(57) [Dennis Fogerty]
#
#
#(58)
#
#
#(59)
#
#
#(60)
#
#
#(61)
#
#
#(62) [Isaac Wiley]
#
#
#(63) [Dennis Rivers]
#
#
#(64)
#
#
#(65)
#
#
#(66)
#
#
#(67)
#
#
#(68)
#
#
#(69)
#
#
#(70)
#
#
#(71)
#
#
#(72)

Notes:

Data courtesy of St. George Historical Society.

Data from two original plots in the possession of James G. Skoglund of St. George, ME.

The cemetery is located on Snow's Point Road in the Village of St. George (Wileys Corner), Town of St. George, ME, just past the First Baptist Church.

The top of the diagram is the front of the cemetery and is 186 feet in length. The bottom of the diagram is the back of the cemetery and is 195 feet in length. Each side is 200 feet in length.

The size of the lots were about 8 by 24 feet. Therefor, it's possible that several people are buried in each lot. The name listed is the lot owner, but there is no confirmation that the owner is buried in the lot.

There is a stone wall that separates the Robinson Lot (South) and the Hall Lot at the back of the cemetery. This wall runs to the St. Georges River. The Robinson property was owned by John Robinson. The Hall property by E. Hall.

The original plan has a note next to Lots #3, 4, 9, 10, 15, and 16 of the Hall Lot that indicates the site and position of the original meetinghouse built probably ca. 1780's.

The original plan has a note at the back part of the Hall Lot, lots #(58) through #(72), that there are many unmarked graves indicating the earliest used portion of the graveyard, ca. 1780-1800.

The lot numbers for the Robinson Cemeteries terminate at #48 and all lots are numbered on the original plan. The lot numbers for the Hall Cemetery terminate at #39. The numbers indicated as (xx) have been added by the transcriber so that the unnumbered lots will have numbers for tracking.

It is the transcribers hope that some day each of the lots can be listed with the names of those buried there, not just the owners names at the time of the original plan as above.

Transcribed by Richard L. Watts, 14 August 1999.


(This page is originally from the Maine USGenWeb genealogy site)

| Site Map |