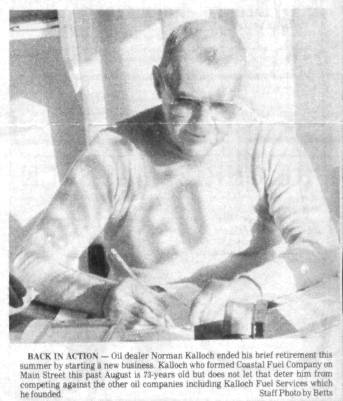 Still Doing What He Does The Best
by Stephen Betts, Staff Writer
Courier Gazette
Norman Kalloch doesn't know when to quit. In fact, the 73-year-old Rockland businessman, doesn't know how to be retired. Kalloch ended a long career at Kalloch Fuel Service Inc. this past spring when he was let go by the same firm he founded. After a short respite from the oil business he decided to begin anew by starting a brand new company. The long-time Rockland area entrepreneur discussed his return to the oil business in the office of his newest enterprise, Coastal Fuel Company. Kalloch smiled as he recited the events leading to his return. "When I was retired found out I didn't have any hobbies," he laughed. The oil dealer said his wife Norma supported his move. "She thought it was good for me. It keeps me out of her hair. Now she appreciates me more when I get home," Kalloch said. The 73-year-old man noted the cycle which has spanned his 50 years in the oil business. "I started in a filling station and now I'm right back to a filling station with an oil business connected," Kalloch said. He started Kalloch Fuels in 1949 and incorporated the prospering oil company in 1956. The first location on Main Street was across the road from present day Jordan's Market. He then moved to Kalloch's present location on Maverick Street, near the intersection with Birch Street. The elder businessman sold his company to Webber Oil in 1975, a move he now wishes he could reverse. "I sold out in 1975. I've regretted the decision ever since," Kalloch said. He said it doesn't bother him very much anymore that his name is on a competing oil business. Kalloch Fuel has, in turn, bought out McLoon Oil. Kalloch worked part-time for the Webber company at Kalloch Fuel Service for eight years before this spring. "I missed greeting people, serving people," Kalloch said of his decision to return to work. He noted that business is picking up. Coastal Fuel opened on Main Street in August. He said some customers he had when he operated Kalloch's Fuel have returned. "Some have come in without me even calling," he noted. The livelihood connected with selling fuel oil and gasoline started for Norman Kalloch in 1931 when he worked for Thurston Oil Company. What Kalloch seems to specialize best in is personal service to his customers, noting he has sort of a branch office in his Thomaston home. Kalloch even allows customers to come to his home to pay their bills, if they prefer. He said this is more convenient to some of the people he services from the Thomaston area. The veteran businessman is a native of Knox County, having been born in Warren and it would seem a sure bet that his face in the local business scene will be around for a long time yet to come.