Remembering Two Patriots,
Father and Son Matthew and Hanse Kelloch
Father and Son Honored at Old North Parish Cemetery

As written by Marilyn Morrison
Saint George, Maine, June 21, 2008. The weather had been cold, rainy, windy and foggy, but the sun came out and it was a perfect day.
The minister, Rev. Walden Chandler, knew we were coming. There were American flags placed in the ground on both sides of the walk leading up to the front door of the First Baptist Church. The doors were open and he had made coffee and decaf, and there was hot water for tea. When we arrived with juice and donuts, both our daughters and their families were there. Our younger daughter and her middle son served refreshments before and after the ceremony. Her sister handed out programs at the cemetery.
Over 40 people were there. More than half had come for the family reunion scheduled later that day. We gathered in a central area of the cemetery where both graves could be seen. The guest of honor, Vrege Murray, Maine State DAR Regent, arrived right on time with some other members of the DAR. The Maine State DAR Photographer was there also. After the welcome and introductions, Rev. Chandler (dressed in his American Legion cap, white gloves, pin and patriotic tie) gave the invocation. One of my grandson's led the Pledge of Allegiance. Vrega Murray spoke briefly. Jim Skoglund, local historian, gave an interesting talk on the history of the area and spoke about the two men.
He said Matthew Kelloch was one of the first burials, his grave is marked only by a field stone. Hanse's stone is interesting because it has a political statement on the back, "The constitution, it must and shall be preserved." This was a popular toast during the Civil War years.
To conclude the ceremony I placed a wreath on both Matthew's and Hanse's graves, assisted by two of my grandson. We said a prayer of dedication in unison and taps was sounded.
We had some photos taken at the cemetery, and I had a chance to speak with the members of the DAR. People went back to the church for more refreshments. I received a gift from Vrege Murray, a cup plate with the image of a lighthouse on it. She explained that she was preparing a paper on the history of light houses in Maine to present to school children.
NOTE: This entire event and presentation was planned by Marilyn Morrison, who is a member of The Elizabeth Ellington Chapter of Daughters of the American Revolution in Bremerton, Washington. Marilyn has since placed plaques at the graves of Hanse and Matthew. There were no identifying markers at those graves previously. Thank you, Marilyn, for all that you do for the Kalloch Association.




(L to R) Vrege F. Murray, Maine State Regent DAR, Marilyn Morrison, Jim Skoglund





Matthew and Hanse Kelloch grave honoring
June 21, 2008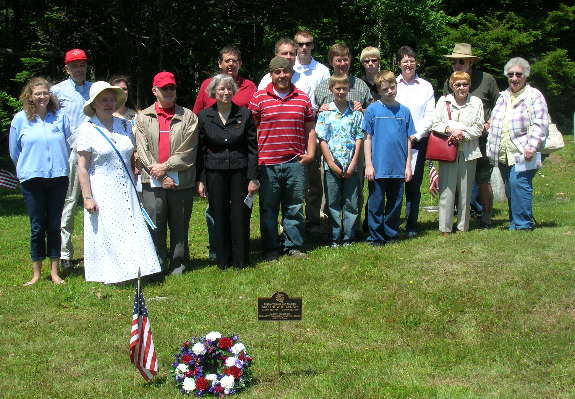 Group Photo at Matthew Kelloch's Grave - 21 June 2008

---
Article From Bangor Daily News about the grave honoring ceremony:
Father-son veterans' graves to be marked
By Roxanne Moore Saucier
Monday, June 16, 2008 - Bangor Daily News
The memory of a father and son will be honored June 21 in St. George, when their graves are marked by two lineage societies from the state of Washington.

Grave markers will be dedicated in memory of Matthew Kelloch or Kalloch, Revolutionary War veteran, and son Hanse Kelloch or Kalloch, who served in the War of 1812.

The markers will be placed by Marilyn Morrison, who is a member of the dedicating organizations, Elizabeth Ellington Chapter, Daughters of the American Revolution; and the USS Enterprize Chapter of the National Society of the Daughters of 1812. Both societies are in Bremerton, Wash.

Matthew was the son of Scots-Irish immigrants Finley and Mary (Young) Kalloch of St. George. As a child, Matthew was with his family when his father served at the siege of Louisbourg, Cape Breton Island.

Matthew and Mary (Robinson) Kalloch were the parents of David, Margaret, Finley III, Moses, Mary, Jane, Catherine, Matthew Jr., Hanse and Sarah.

Matthew's Revolutionary War service occurred in 1776 and 1778-79.

Hanse, who married Sarah H. Phinney of East Machias, was a crew member on the schooner Fame in 1814-15.

Hanse later was so vocal on behalf of the Union cause during the Civil War that St. George Baptist Church did not allow him to be a member. But he is buried near the church, and his gravestone is inscribed, "The Constitution — it must and shall be preserved."

Participants in the grave markings will include Vrege Murray, state regent of the Maine DAR; the Rev. Walden Chandler, pastor of St. George First Baptist; and two of Matthew's sixth-great-grandsons, Alexander Petras and Andrew Ronholt.

The event is open to the public. No doubt there will be other Kalloch descendants in attendance. They have an active, interesting group.