KALLOCH ARMS REPORT
By Dean Mayhew, Historian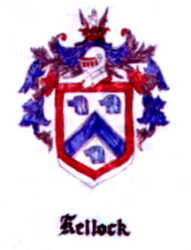 In the beginning was Edward Kalloch Gould, while I don't know for certain that the arms were discovered by him, it was a fact that he was both society President and the State genealogist in the 1930's. He (or somebody) found the arms in the British Herald by Thomas Robson Vol. II, Sunder land UK 1830. It is the only known source of the arms. Here he says "(Scotland ar. a chev. between 3 Talbots Heads, couped as within a bordure g ul. Crest, out of a ducal coronet a sinister hand between two wings. All proper". This translates, out of a dukes crown (dukes?) an upraised hand between two wings. Arms - a chevron 3 blue dogs' heads with a red border.
The brodure represents a cadency difference in Scotland (meaning it went to a younger son, the oldest son got the original). Did our guy have something to do with a Duke? Did it have to do with dogs? ¿Quién sabe? (who knows?)
We'll probably never know which Kalloch was so rewarded or why. Unless of course, we manage another Ginger August (the woman who found the Kalloch-Killough connection).
I, of course, tried to research it. Since it was a Scots grant, I tried them first. The address is: Court of the Lord Lyon. HM New Register House, Edinburgh EH, 34T. The cost was two pounds. The secretary to the Lord Lyon could find nothing, but did say all arms were called in for registration in 1672. Nothing is said as to the person getting the arms or where an original might be found.
The National Library of Scotland George IV Bridge, Edinburgh EH 1EW located no family history in any spelling.
Ulster -Ulster Historical Foundation, 66 Balmoral Avenue, Belfast BT 6 NY: 15 pounds, nothing.
Ireland Genealogical Office Dublin Castle, believed not Irish.
London Rouge Croix Pursuivant College of Arms, London ECYVYBT. Cost 120 dollars. Checked everything, nothing.
British Museum, Great Russel St., London WC1B3DG, No family histories available.
A possibility and only that (might be a French grant, maybe John (1) saved the king from stumbling over his own shoe laces or something!
---
Here is another description of the Kellock arms
(written down by Ken Kalloch at the Kalloch reunion in 1982)
Kellock (Scotland)
Arms - Argent, a chevron between three talbots heads couped azure within a bordure gules.
Crest - Out of a ducal coronet a sinister hand between two wings, all proper.
N.B. The foregoing is worded in the terminology of Heraldry. In plain English it means as follows:
The background of the shield is to be silver (argent). Upon it is to be places a chevron of blue (azure) between 3 dogs' (talbots) heads also blue. All encircled by a border (bordure) of red (gules).
In the description of the crest, the "sinister hand" means left hand. Proper means natural color.
In Heraldry silver stands for justice, purity and peace. A chevron represents the gable roof rafters. Protection. Often given to ambassadors and eminent statesmen as a reward for protection (as under a roof) they gave King and Country, A talbot is an ancient hunting dog. The border is an added honor and denotes antiquity of the arms. Very few shields have borders. Wings are emblematic of celerity, protection, hospitality and service.
E.P.N.

Erskin P. Noyes
7 Dayton St.
Augusta, Maine 3-15-57
Burke: General Armory
E.P. Noyes